New Zealand Striploin Beef Skewers, Hoisin Mayo, Carrot-Horseradish Slaw
The excellent quality New Zealand striploin is marinated in a mixture of pineapple juice, soy sauce, chillies, ginger, and sesame seeds, resulting in wonderful sweet, tangy, and spicy flavors. The hoisin mayo and carrot-horseradish slaw are a terrific accompaniment to these Asian fusion beef skewers.
Ingredients:
Hoisin Mayo
1/4 cup hoisin sauce
1/3 cup mayonnaise, preferably homemade (how to make mayonnaise)
Carrot-Horseradish Slaw
1 cup carrots, shredded
1/4 cup horseradish root, finely shredded
2 tablespoons red onions, minced
1/3 cup rice vinegar
1 tablespoon sugar
pinch salt
1 tablespoon extra virgin olive oil
Skewers
1 1/2 cup pineapple juice
1/4 cup soy sauce
1 teaspoon ginger, minced
2 tablespoons sesame seeds
1/2 tablespoon crushed chillies
1 pound grassfed beef striploin, cut into 1-inch cubes
1 red onion, large slices
Directions:
Hoisin Mayo
1. In a small bowl, mix hoisin sauce and mayonnaise together.
2. Set aside until ready to serve the skewers.
Carrot-Horseradish Slaw
1. Combine shredded carrots, horseradish root, and red onions in a bowl.
2. In a separate bowl, whisk rice vinegar, sugar, salt, and oil.
3. Pour over the carrot-horseradish and mix well. Refrigerate for at least an hour for the flavors to develop.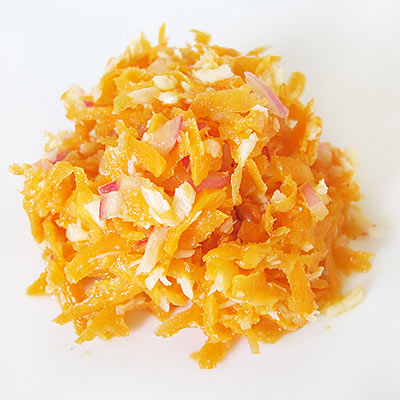 Skewers
1. In a large bowl, combine pineapple juice, soy sauce, ginger, sesame seeds and chilies.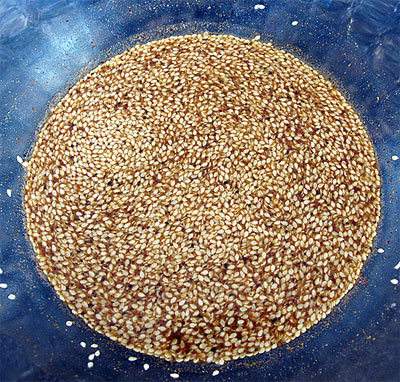 2. Place the striploin cubes in the mixture, cover, and refrigerate to marinate for at least four hours.
3. Place the striploin cubes onto skewers, alternating with red onion slices. Grill on all sides.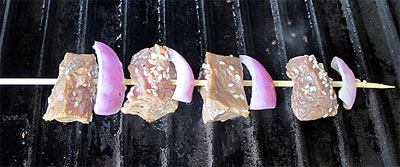 4. Serve with Hoisin Mayo and Carrot-Horseradish Slaw.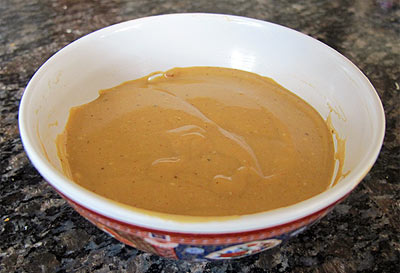 Recipe Development & Photography by Natasha Price, 5 Star Foodie
___________
Browse More:
Beef Recipes
Kebab & Skewer Recipes