BBQ Pulled Pork Sandwich/span>
Makes 2 Servings
DRINK PAIRING
US Microbrew Brown Ale or English Porter
Best pulled pork sandwich ever?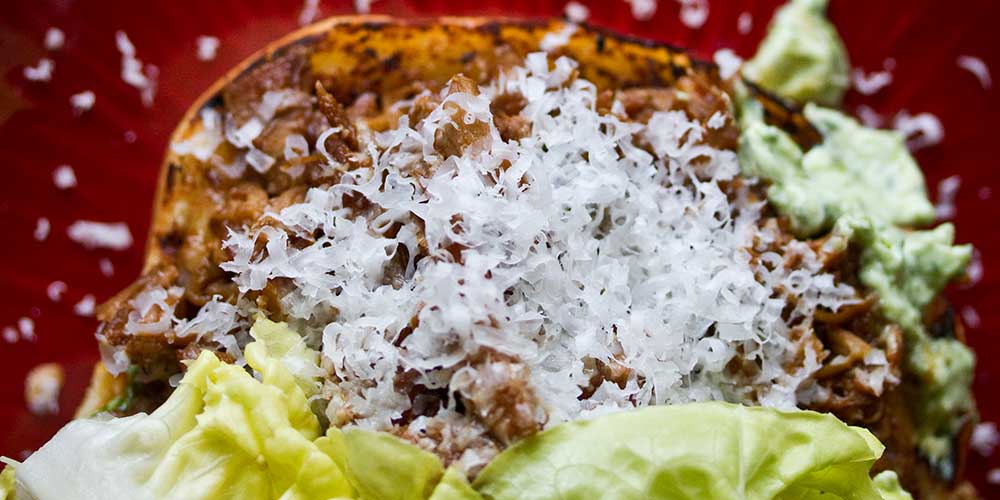 INGREDIENTS
~ 1lb of any pork braising cut (we used pork osso bucco, but you could use kurobuta pork shoulder, kurobuta cheek meat, etc)

½ cup aromatic White Wine (we used Riesling)

¼ cup Carrot, Medium Diced

¼ cup Celery, Medium Diced

1/3 cup Onion, Medium Diced

1 Bay Leaf

2 Garlic Cloves, peeled

1 quart Chicken Stock

6 tbsp Mayonnaise

4 tbsp Barbeque Sauce, either use your favorite brand or try this barbeque sauce recipe

Aged Sheep's Cheese (we used Garrotxa)

Butter Lettuce

2 Brioche Buns (or your other burger bun of choice)
DIRECTIONS
1
Optional: For oven braising, preheat your oven to 325 degrees.
2
Let the pork come to room temperature. Dab off any surface moisture.
3
Get oil hot in a dutch oven, add the pork, and sear it on all sides in order to develop a golden brown crust.
4
Remove and reserve the pork, drain off the excess oil and fat.
5
Deglaze the pan with the wine.
6
Reduce the wine until almost completely evaporated.
7
Add the carrots, onions, and celery. Saute until softened.
8
Add enough chicken stock to cover along with the bay leaf, garlic cloves and reserved pork.
9
Bring to a
simmer, cover, and braise
, either on the stove top or in the oven for about an hour and a half or until tender.
10
Once the pork has braised, let the contents of the pot cool completely. Remove the pork from the liquid (reserve the rest), and pick the meat from any bones. Shred the meat into bite sized pieces with your fingers or two forks. Store in your refrigerator until needed.
11
When you're ready to make the sandwiches, reheat the shredded pork in a sauce pan with the barbeque sauce.
12
Stir together the mayonnaise and salsa verde until combined.
13
Grill or toast the brioche bun.
14
Spread the salsa verde mayo on the bun, pile on the pork meat, and top with grated cheese to taste. Finish with butter lettuce, and serve.