Somehow, Joanne of Eats Well With Others manages to attend medical school, come up with delectable recipes AND spearhead/participate in a lot of our recipe contests. "Busy" probably doesn't cover it. So we're grateful she shared this tantalizing & drool-worthy recipe with us for an upside down cake like you've never seen before.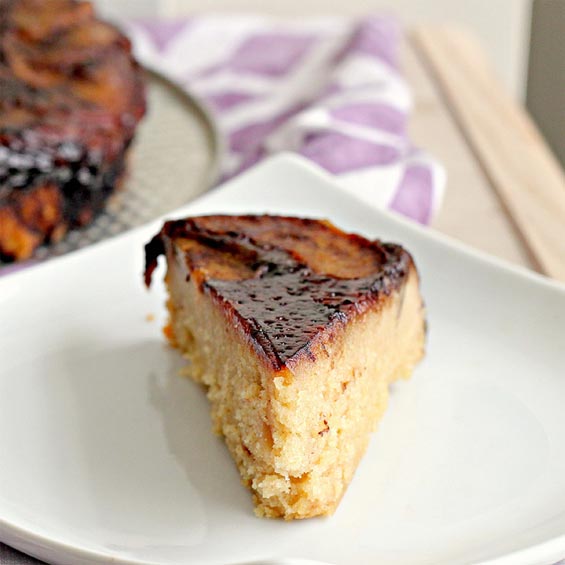 It's coming on 10 years since I started buying my own balsamic vinegar and memories of the charlatan my mother used to dress our salads with still gives me nightmares.
I wake up at 2AM with acetic acid-induced night terrors from caustic Italian vinaigrette infused dreams.
And bed hair.  It is not a pretty sight.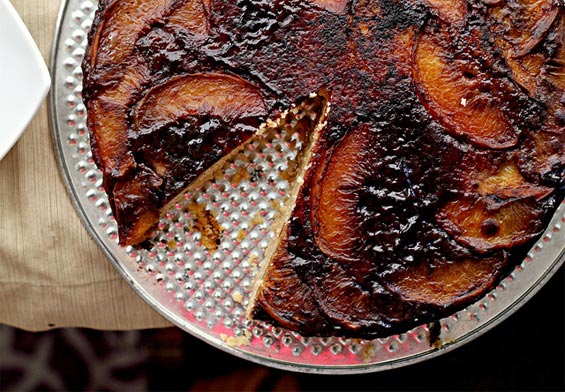 It wasn't until I left for college that I realized that there is a whole other world of balsamics out there.  Balsamics that are so sweet you are tempted to drink them for dessert or, at the least, drizzle them all over anything and everything.  Including your dessert.
It was revelatory.
But while I thought good balsamic was, well.  Amazing.  Mosto cotto takes it to a whole new level.  It is so syrupy delicious that you can't be stopped at drizzling. Oh, no, you want to bathe yourself and everything you own in it.  I swear it.
I figured my laptop probably wouldn't react very well to such an undertaking, however.  So I settled for making a balsamic caramel topped peach upside down cake.  And by "settled" I mean that it is my new most prized possession.  My ultimate favorite thing.
The texture and flavors of the cake are absolutely perfect.  It is dense without being overly so, incredibly moist, and just the perfect amount of sweet that you are grateful there is a hint of acetic acid in the mix to even it all out. It is the perfect cake to eat on a warm summer's day, with a cup of tea, or just because.
And, well.  It might haunt you for the rest of your life…but unlike the vinegar from my childhood, it will be in a good way.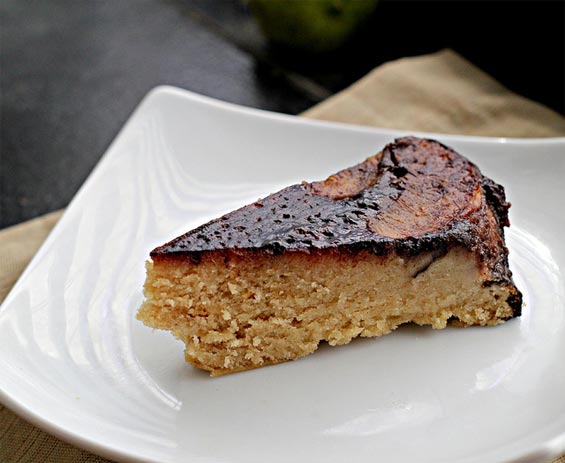 Balsamic Caramel Peach Upside Down Cake
Makes 1 9-inch cake, recipe by Joanne Bruno of Eats Well With Others
Ingredients
•  1/2 cup unsalted butter
•  1/2 cup dark brown sugar
•  1/4 cup cherry mosto cotto
•  1/4 cup balsamic vinegar
•  2 peaches, cut into 1/2-inch slices
•  3/4 cup unsalted butter
•  3.5 oz brown sugar
•  3.5 oz white sugar
•  2 tsp vanilla
•  2 eggs
•  6.5 oz all purpose flour
•  1/2 tsp cinnamon
•  1/4 oz baking powder
•  7.5 oz lowfat buttermilk
Instructions
Preheat the oven to 350.
In a small saucepan, heat the butter, sugar, mosto cotto, and vinegar until butter has melted and sugar is dissolved.  Pour into the bottom of a 9-inch springform pan.  Top with the peaches, arranging in a single layer.
In the bowl of a stand mixer fitted with a paddle attachment, on medium-high speed, cream together the butter and sugars until light and fluffy, about 3 minutes.  Add in the vanilla and eggs, one a time, scraping down the sides after each addition.
In a separate bowl, mix together the flour, cinnamon, and baking powder.  Add to the stand mixer in three batches, alternating with buttermilk, and scraping down the sides as needed.  Mix until just incorporated.
Pour the cake batter over the peaches and spread evenly with a spatula.  Bake for 40-50 minutes or until the cake springs back when lightly pressed and the edges start to pull away from the pan.  Cool for 10 minutes in the pan and then turn onto a serving platter.  Allow to cool fully before slicing.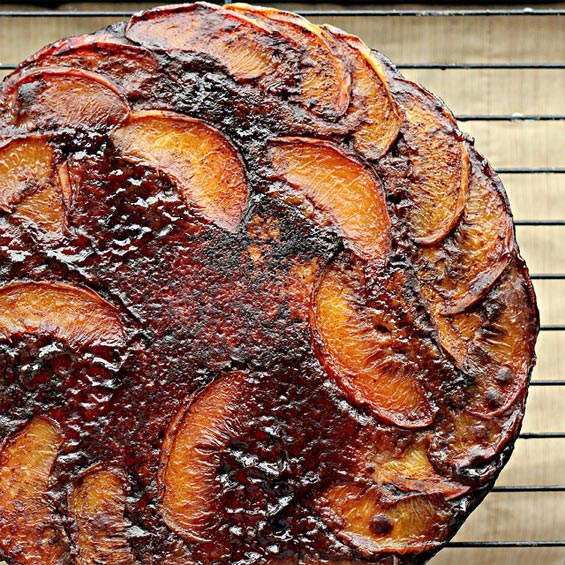 ___________
Browse More:
Cake, Cookie & Pie Recipes
All Dessert Recipes
Vinegar Recipes & Techniques