Baked Spelt Porridge with Vanilla, Huckleberries & Maple Sugar
Makes 6 Servings
DRINK PAIRING
Strong Cup of French Press Coffee
Though it looks like one, this isn't sweet enough to be a dessert. Instead it's an incredible breakfast that can be served hot or cold, with or without milk. Baking it in the oven rather than stirring it on the stove gives it a denser texture and frees you from the stove.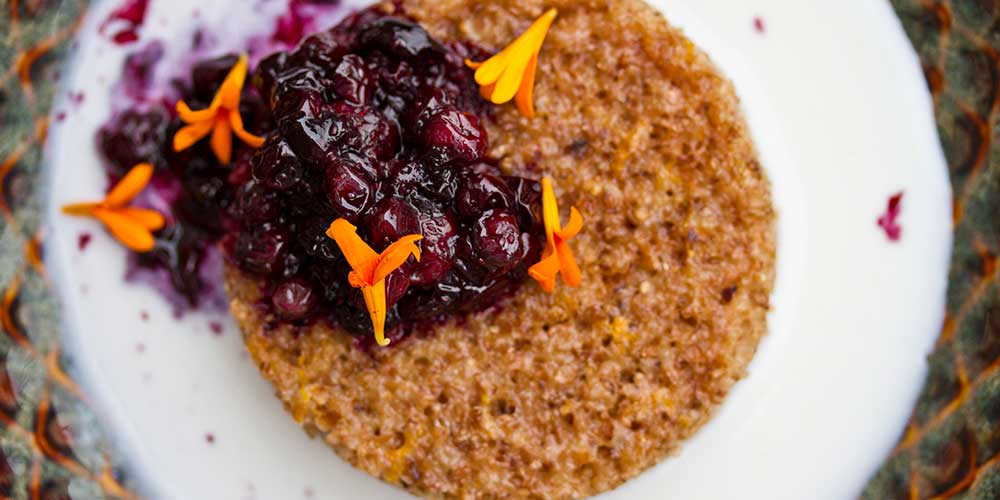 DIRECTIONS
1
Preheat your oven to 350 degrees & rub an 8×8 baking dish with butter.
2
Melt the butter in a saucepan. Add the cracked spelt and toast it, stirring frequently, until fragrant and lightly browned.
3
Move the toasted spelt to a bowl and stir in the milk, 1 teaspoon of orange zest, vanilla extract, 1/3 cup of maple sugar, salt and water.
4
Pour the spelt mixture into the baking dish. Put the dish on a baking sheet or cookie sheet (just in case it bubbles over). Move the dish to the oven.
5
Bake
for 35 minutes, then check the porridge – it will set up almost like a brownie when done.
6
While the porridge is baking, combine the huckleberries, remaining teaspoon of orange zest and the remaining ¼ cup of maple sugar in a small pot. Simmer until a thick sauce forms.
7
Cut portions of the porridge & serve them hot or cold, with or without milk.
Note: This porridge can be frozen in the baking dish for later use. When you want to eat it, just move it to your refrigerator until thawed, then serve cold or reheated in the microwave.