Kurobuta Pork Bacon, Scallop & Shrimp Okonomiyaki
Makes 4-6 Servings
WINE PAIRING
Vouvray Sec
Okonomiyaki is a unique Japanese dish whose name can be roughly translated to "everything you want". It's a savory pancake that typically includes meat, vegetables, and seafood. It's served drizzled with tangy-sweet Japanese-style mayonnaise and okonomiyaki sauce, which tastes a bit like a cross between Worcestershire and barbecue sauce.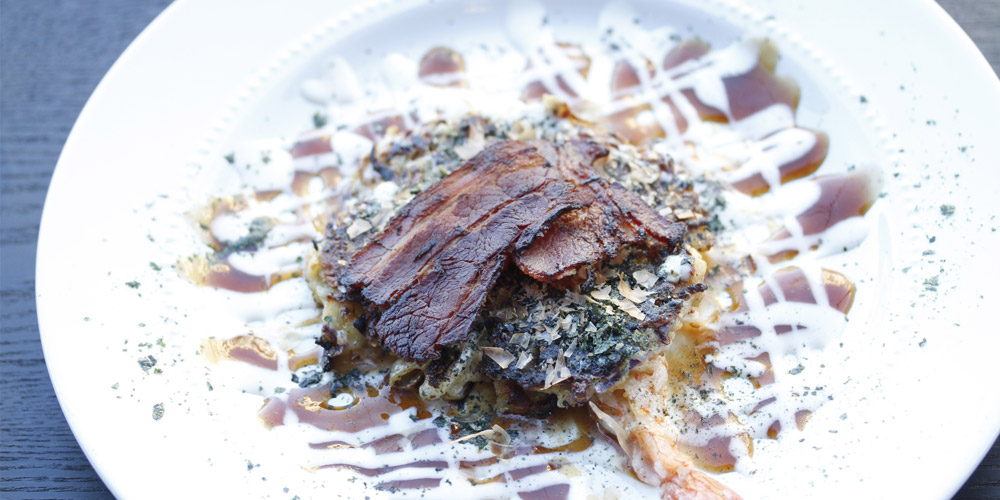 INGREDIENTS
2 Eggs, lightly beaten

¾ cup Cake Flour

½ cup Dashi

1 tsp Toasted Sesame Oil

4 packed cups thinly shredded Red & Green Cabbage

½ cup minced Pickled Ginger

1 cup finely grated Yukon Gold Potato

½ cup Katsuobushi Bonito Flakes (plus extra for garnish)

1 tsp Salt

½ cup Crushed Potato Chips

6 Large Shrimp, deveined & butterflied, tails on

6 Large Sea Scallops, cut into ¼" pieces
1lb Berkshire (Kurobuta) Pork Bacon, cut into strips

Toasted Nori Flakes

Okonomiaki Sauce (available at Japanese markets or over the internet)
Sweet/Sour Mayonnaise:

½ cup Best Foods Mayo

1 tsp Water

1 tbsp Mirin

1 tsp Lemon Juice

1 tsp (unsweetened) Rice Wine Vinegar

¼ tsp Soy Sauce
DIRECTIONS
1
Whisk together all the sweet & sour mayonnaise ingredients.
2
In a large bowl, combine the eggs with the dashi, sesame oil & cake flour. Whisk to blend well.
3
Stir in the potato, cabbage, pickled ginger, salt, scallops, and ½ cup of katsuobushi flakes.
4
Let the batter rest for 20 minutes.
5
Preheat a hot oiled skillet.
6
Just before cooking, stir in the potato chips.
7
Lay in several slices of the bacon in the pan. Briefly sear the bacon on one side.
8
Put some of the okonomiake mixture in the skillet. Top it with one or more (depending on the pancake size) of the shrimp, tail hanging over the edge (so it will be very visible). Top the shrimp with a little more of the batter mixture, just to cover them.
9
Reduce the heat to Medium Low, then cover the pan with a lid.
10
Let the pancake brown on the bacon side. When it's well browned, flip the pancake & drizzle the top with some of the okonomiyaki sauce. Continue to cook until the other side is browned & it's cooked through (about 15 minutes in the pan total – though larger ones may take longer).
11
Repeat 7-10 with the remaining bacon, shrimp, and batter to make the rest of the pancakes.
12
Serve the pancakes drizzled with the sweet/sour mayo & sprinkled with plenty of toasted nori flakes & additional katsuobushi flakes.