Bacon-Sausage Potato Hash
Makes 2 Servings
DRINK PAIRING
Bloody Mary
Different from our earlier quick potato hash recipe, this version of the breakfast classic adds sausage for use as a robust full breakfast rather than just a starchy side dish. Whether you're a die-hard carnivore looking to have game meat in the morning or just someone looking for a protein-rich breakfast to keep you going until late in the day, this hearty recipe is sure to satisfy.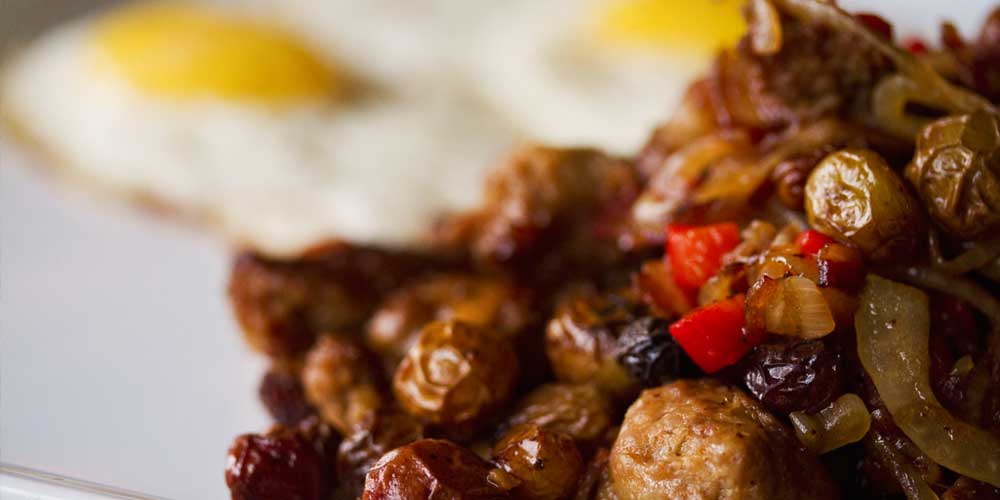 DIRECTIONS
2
Remove the onions, add the bacon slices, cook them over low heat until their fat has rendered out and they've crisped up.
3
When the bacon has rendered, remove it from the pan, leaving as much fat behind as possible.
4
Add the potatoes and pan fry in the bacon fat until tender.

5
Remove the potatoes from the pan with a slotted spoon. Add the sausage meat to the pan and break it up into small pieces. Increase the heat to saute the sausage meat.

6
When the sausage is cooked through, return the potatoes, onions, and bacon to the pan along with the pepper and cook just long enough to heat them through.

7
Heat some oil in a cast iron skillet and
fry
the eggs sunny side up.

8
Serve the hash alongside the sunny-side up eggs.