Bacon Roasted Fingerling Potatoes
Mmm…comfort food. Smoky, rich, porky potatoes with a minimum of extra effort.
Fingerling potatoes roast particularly well, but you could easily substitute other heirloom potatoes or new potatoes.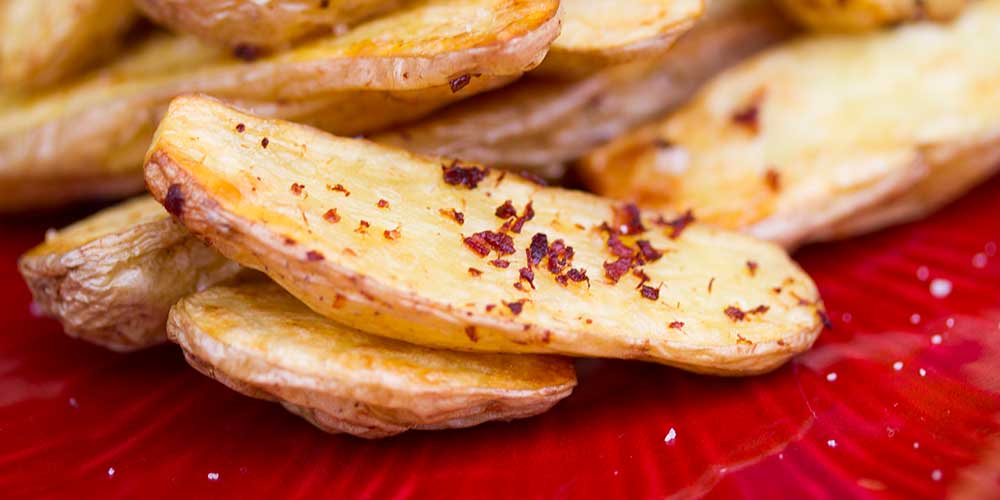 INGREDIENTS
3 tbsp Bacon Butter (could substitute unsalted butter mixed with cooked (but still soft) bacon)

1 tsp Olive Oil
DIRECTIONS
1
Preheat your oven to 425 degrees.
2
Cut the fingerlings in half lengthwise & toss them in the oil.
3
Cover a baking sheet with aluminum foil. Spread out the potatoes on the foil in a single layer.
4
Roast the potatoes in the oven for 15 minutes.
5
Remove the baking sheet from the oven and add the butter in chunks distributed across the surface of the foil. Let the butter melt, then stir the potatoes to coat.
6
Flip all the potatoes so the cut sides are down on the foil.
7
Return the potatoes to the oven and continue to roast until the bottoms are caramelized and the tops are browned & wrinkled (check them after ten minutes).
8
Serve sprinkled with the smoked flake salt.