Warm Bacon & Mustard Potato Salad
When people think of potato salad, they tend to assume mayonnaise, crème fraiche, or some other dairy is involved. This version is dairy free, giving it a more rustic consistency and appearance. Isn't creamy, but it is a lot lighter, making it a better side dish for heavier meats and fatty fish.
Leaving the pearl onions only lightly cooked gives this salad a crisp consistency and, together with the mustard and vinegar, a little bite. It doesn't taste heavily of bacon, there's just enough in here to give it a bit of smoke and richness.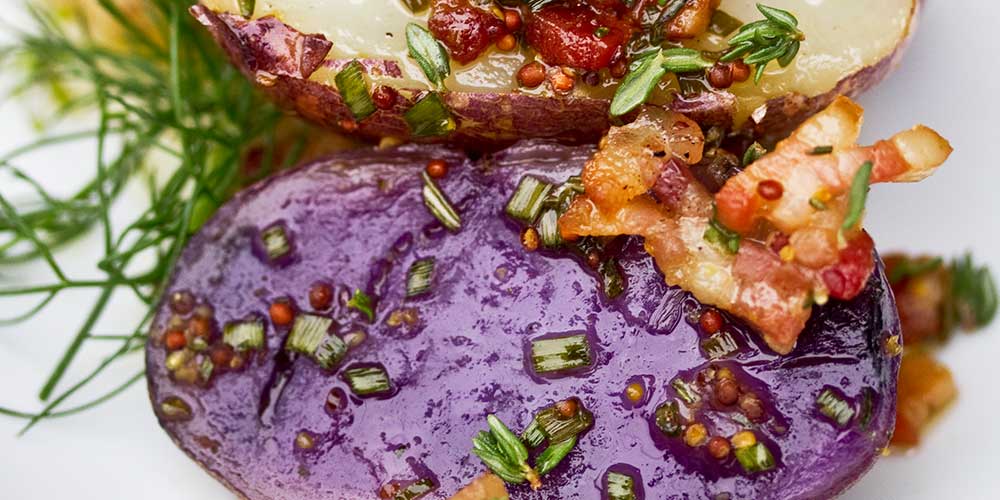 INGREDIENTS
1lb Heirloom Potatoes (we particularly recommend Austrian Crescent Fingerling Potatoes)
1/4lb Bacon, diced

1 tbsp + 1/3rd of a cup Olive Oil, plus extra if needed

1/2 bunch Fresh Thyme Sprigs

2 tbsp Whole Grain Mustard

1/4th cup Apple Cider Vinegar

2 tbsp Fresh Chives, chopped

6 Pearl Onions

3 whole sprigs Fresh Rosemary + 1 tbsp chopped leaves
DIRECTIONS
1
Preheat your oven to 350 degrees.
2
Cook the diced bacon with the olive oil in a frying pan on medium heat until the fat has rendered out and the pieces have crisped. Reserve the bacon & fat.
3
Cover the potatoes with cold, salted water. Bring to a boil & cook until al dente. Drain.
4
Add the pearl onions to a small pot of cold water and bring it just to a rolling boil, stirring occasionally to dunk the onions. Pour off the water and let the onions cool. Peel & halve them.
5
Halve the potatoes and return them to the now dry pot. Add the 1/3rd cup of olive oil, whole thyme sprigs, fresh rosemary sprigs, salt & pepper. Toss to combine & top with foil.
6
Move the pot to the oven to briefly roast until potatoes are completely tender. Check periodically, and add more olive oil if needed to keep the pan from drying out.
7
Once the potatoes are done, remove the pan from the oven. Discard the rosemary sprigs & pour off about 1/3rd cup of the olive oil into a bowl.
8
While the potatoes are still warm, stir into the 1/3rd cup of oil the whole grain mustard, chives, chopped rosemary, bacon, 2 tbsp of the rendered bacon fat, pearl onions and apple cider vinegar. Return the flavored oil to the pan with the potatoes & stir to combine.
9
Use a slotted spoon to the potato salad on to a plate or into a bowl. Serve.