Baby Pineapple Napoleon w/ Coconut Sour Cream & Blood Orange
This Napoleon eschews the traditional puff pastry or other crispy layers in favor of candied baby pineapple slices. Between them is sandwiched coconut sour cream and bright blood orange slices. Beautiful on the plate and quite tasty!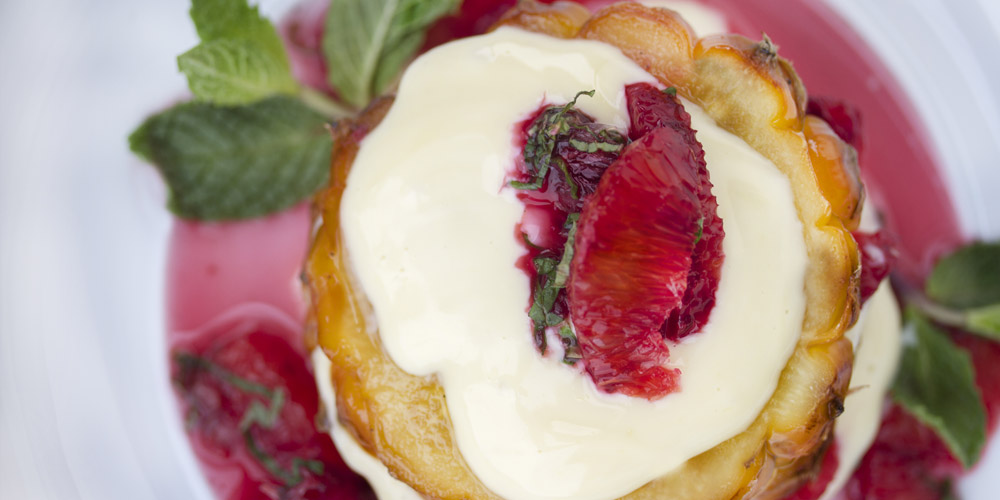 INGREDIENTS
Poached Baby Pineapples:
3 cup Simple Syrup (1/1 sugar/water)

3/4 tsp Ground Cinnamon

6 tbsp Dark Rum (we used Meyers)

3 Squeezes of Fresh Lemon Juice

3/4 Vanilla Bean

1/2 cup Coconut Jam

2 tbsp Sour Cream

Tiny pinch of Salt

6 Blood Oranges (could substitute regular oranges)

1 tsp Fresh Mint, chopped, plus extra for garnish
DIRECTIONS
1
Cut the blood oranges into supremes.
2
In a pot combine the simple syrup, cinnamon, lemon juice & dark rum.
3
Scrape the seeds out of the vanilla bean (how to use a vanilla bean) and add them (and the outer bean) to the pot.
4
Cut the leaves and rind off of the pineapples (we left the skin on for presentation in our photo, but it is inedible). Slice the fruit into ¼" slices.
5
Put the baby pineapples in the pot. Bring the mixture to a boil, then remove it from the heat and let it cool.
6
Stir together the coconut jam and sour cream with the tiny pinch of salt.
7
Toss the blood orange supremes with the mint.
8
Put a dab of coconut sour cream on each plate. Top each with a slice of the poached pineapple.
9
Top each slice with more of the coconut sour cream and some of the blood orange supreme mixture.
10
Top the supremes with another slice of pineapple, more sour cream mixture & more supremes.
11
Top those supremes with one last pineapple slice, more cream, one supreme and mint.
12
Sprinkle the plate with extra mint leaves. Serve.