Wild Boar Chops w/ Apple Mustard Sauce
Tender wild boar chops cooked sous-vide, then seared on the stove top & finished with an apple-mustard sauce.
If you don't have a sous vide rig, you can also adapt this recipe for roasting in the oven, or slice the rack into chops and pan sear them.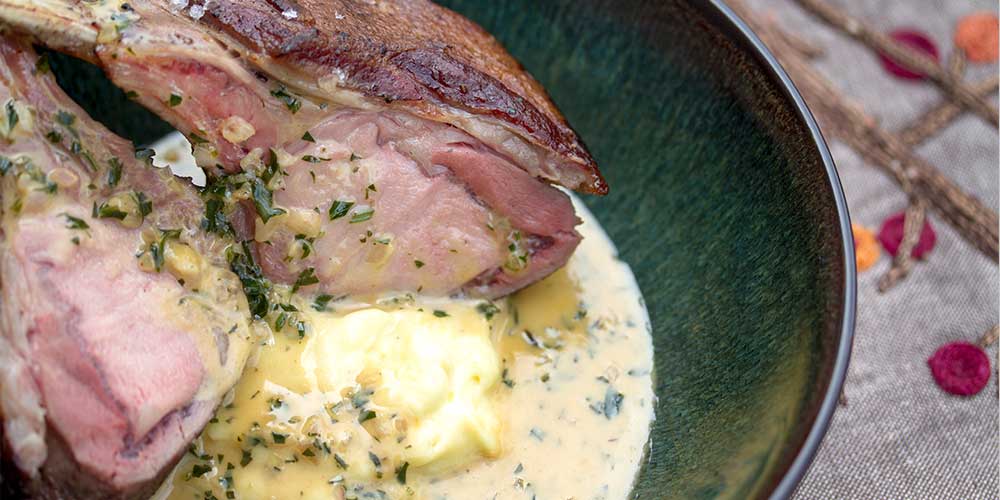 INGREDIENTS
1 sprig Fresh Rosemary

2 tbsp minced Shallot

2 tsbp minced Parsley

1 tbsp minced Rosemary

½ cup White Wine

1 tsp Dijon Mustard

¾ cup Heavy Cream

1 tsp Apple Cider Molasses

Recommended Side: Siphon Whipped Truffled Potatoes
DIRECTIONS
1
Preheat your sous vide water bath to 140F.
2
Season the rack with salt & pepper (use less than you would when grilling, broiling, etc).  Put it in a vacuum bag with the rosemary.
3
Put the rack in the water bath, let it come back to 140 degrees, and then cook for 1 ½ hours.
4
Remove the rack from the bag & dry off all the surface moisture.  Get a large frying pan or cast iron skillet, oiled with 2 tbsp of high-heat oil, very hot.
5
Press the rack down into the surface of the pan, bone-side up, to develop a nice sear.  Repeat with the bone side (getting a good sear will be tricky, but do your best).
6
Optional: Use a kitchen torch to brulee the bones for a better presentation.
7
Remove the rack from the pan & drain off most of the fat.
8
Add the minced shallot, a pinch of salt and the white wine.  Cook until the pan is almost dry.
9
Add the mustard, cream, minced rosemary, minced parsley & apple cider molasses.
10
Simmer to reduce to the sauce consistency you prefer.
11
Cut the rack into chops or double-chops.  Serve with the mustard crème sauce and your choice of sides.