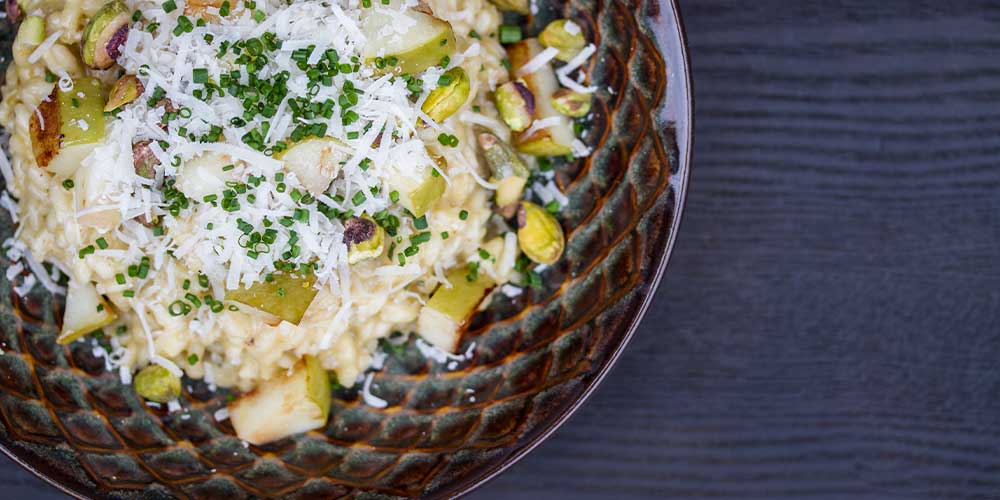 INGREDIENTS
2 cups Carnaroli Rice

1 tbsp Pistachio Paste

½ cup finely minced Onion

1 Granny Smith Apple, cored & cut into 1/2" cubes (skin on)

½ cup Apple Cider

4-6 cups Vegetable Stock

1 tbsp Unsalted Butter

1 clove Garlic, smashed & scraped into a paste

1 tsp + 1 1/2 tbsp of Salt

1 tsp chopped Fresh Rosemary

1 tsp Fennel Pollen
DIRECTIONS
1
Preheat your oven to 400 degrees.
2
Melt the tablespoon of butter in a large frying pan. Add the onion and
sweat
it until softened & translucent.
3
Add the rice, 1 ½ tablespoons of salt, ½ cup of apple cider, and some black pepper.
4
When the cider has cooked down, add ½ cup of the vegetable stock and the garlic.
5
Continue to cook, stirring occasionally, and adding additional stock in ½ cup increments as needed until the rice is tender.
6
In a frying pan or baking dish, toss the apple cubes with the salt. Put the pan in the oven to roast until tender and lightly browned (but not turned to mush).
7
When the risotto has cooked, stir in the pistachio paste, the three cheeses, fresh rosemary, fennel pollen, and additional stock as necessary for a creamy risotto consistency.
8
Serve the risotto in bowls, each topped with the roasted apples, 1 tbsp of parmesan cheese and 1 tbsp of chopped pistachios.