Fried Quail Breasts with Saffron Ajo Sauce & Grape Gremolata
Makes 6 light appetizer Servings
A riff on the flavors of the famous Ajo Blanco chilled soup in Spain. We've added saffron to bring a warm golden color to the sauce – so it's not so blanco anymore.  It has the bold flavor of saffron with the nuttiness of almonds, bite of sherry vinegar, and savory garlic.  A playful chopped grape & parsley gremolata adds brightness & additional color.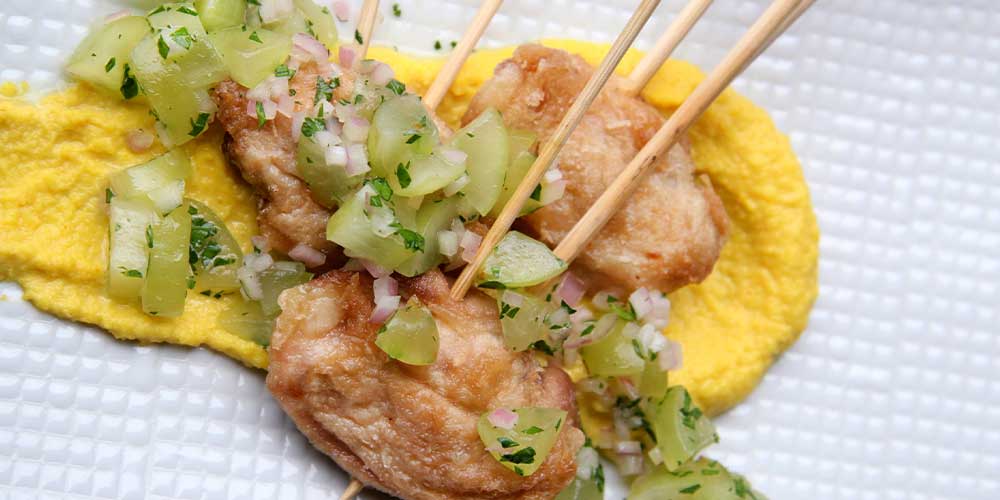 INGREDIENTS
2 tbsp Cornstarch

Neutral-Flavored High Heat Oil for Frying (grapeseed, canola, etc)

Salt and Pepper
Saffron Ajo Sauce:

1 head of Garlic

1 + 2 tbsp Olive Oil

1 pinch Saffron Threads

1-inch of Baguette or one slice White Bread, crust removed

1 cup Almonds

½ cup Water

2 tbsp + 1 tsp Sherry Vinegar (we used Gran Reserva Sherry Vinegar)
Green Grape Gremolata:

¼ cup minced Shallot

¼ cup Seasoned Rice Wine Vinegar

1 cup Green Grapes

1 tbsp minced Flat Leaf Parsley

1 tsp Extra Virgin Olive Oil

Pinch salt, to taste
20 flat or 40 round Small Bamboo Skewers
DIRECTIONS
Make the Saffron Ajo Sauce:
1
Preheat the oven to 400°F.
2
Chop the top off the garlic head, coat it in 1 tbsp of the olive oil, and wrap it in aluminum foil. Bake it for 30-35 minutes, until the cloves feel soft when pressed. Unwrap and let cool.
3
Bloom 1 pinch of saffron in 2 tbsp warm water.
4
Soak the bread briefly in warm water until softened.
5
Boil 2 cups of water. Place the almonds in a heatproof bowl, and cover with boiling water. Set aside for 3-4 minutes, then drain and squeeze them out of their skins.
6
Put the blanched and peeled almonds (drained) into a food processor or blender. Squeeze the garlic cloves out of their head and add them. Add the saffron and the water it was bloomed in, plus the additional ½ cup of water.
7
Lift the bread from the water and squeeze it slightly to drain, then add it, too (without the additional soaking water). Puree the mixture until it's smooth.
8
While running, stream in the sherry vinegar and the remaining 2 tbsp of olive oil. Salt to taste.
Make the Green Grape Gremolata:
1
Place the shallot in a small bowl and cover it with seasoned rice wine vinegar. Let the shallot soak for 6-8 minutes, then drain the pieces out of the vinegar with a small strainer.
2
Quarter the green grapes. Combine them with the shallots, parsley, and olive oil. Gently mix to combine, then salt to taste.
1
In a small saucepan, heat your frying oil to 350°F.
2
Toss each quail breast in cornstarch, shake off any excess, and thread it onto 1 (flat) or 2 (round) skewers.
3
When all your skewers are made, fry them in batches until golden brown, about 3 minutes each. Drain the breasts on paper towels and lightly salt them immediately.
4
Spread a schmear of Saffron Ajo Sauce on each plate. Top with 1-2 quail breast skewers. Scatter with green grape gremolata and serve immediately.