Jen from ZestyBeanDog was kind enough to share some tasty-looking yuzu juice recipes with us: one for yuzu salad dressing and one for a decadent duck eggs Benedict with yuzu hollandaise.  Check them out!

I'd like to talk a little bit about why I think Yuzu juice is so special and then share some of my favorite recipes that include Yuzu.
I absolutely LOVE Yuzu I have been using it in everything lately and just cannot seem to get enough of it. It such a versatile ingredient and I'm almost a bit sad that I've only been using it for about 6 months and not longer! I've been an avid food blogger for the past 2 years and if you ask any of my followers what my signature ingredient is…they will tell you Yuzu! In fact I've even been deemed (jokingly) the ambassador of Yuzu.
The multiple layers of Yuzu create a unique base that complements almost any and every dish, it's far more complex than your traditional lemon and lime citruses. I feel that there is not one thing I've used Yuzu on that didn't turn out better from doing so. I feel there's a certain time and place for a lemon or lime element, and sometimes when when you sub a lime in a recipe that really needs a lemon, it can be off. When you sub Yuzu for either of those citruses in my opinion it kicks it up a notch.
Yuzu creates a whole new complex flavor that in most cases hasn't been experienced in most foods which is why you can find Yuzu in so many of my recent blog posts. I would highly recommend ordering it from Marx Foods, it's the best quality I've found. Some "cheaper" versions add salt and are simply just not as good. Give Yuzu a try, you will thank me later, I promise! Cheers!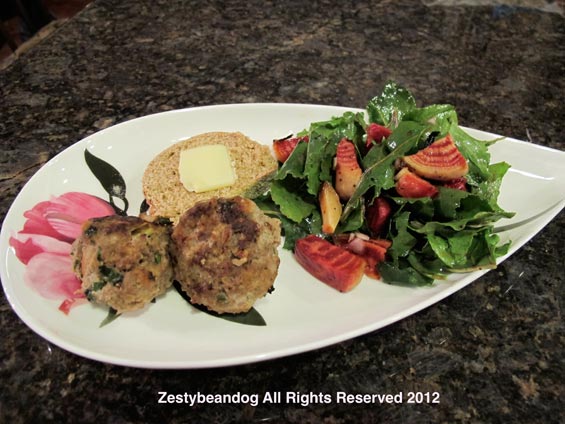 Poppy Yuzu and Agave Dressing    Great for cold & hot salads!
Ingredients:
2 TBS yuzu juice (this is one of my newest cooking "MUST HAVES")
1 TBS clementine juice
1 TBS lemon juice
1 TBS agave nectar
1 TBS shallot, minced
2 TBS apple cider vinegar
1/8 tsp. cayenne pepper
1/8 tsp. pepper
1/8 tsp. salt
1 tsp poppy seeds
2 TBS olive oil
Directions:
1. Mix all of the above and chill
2. Serve with either a hot or cold salad and enjoy!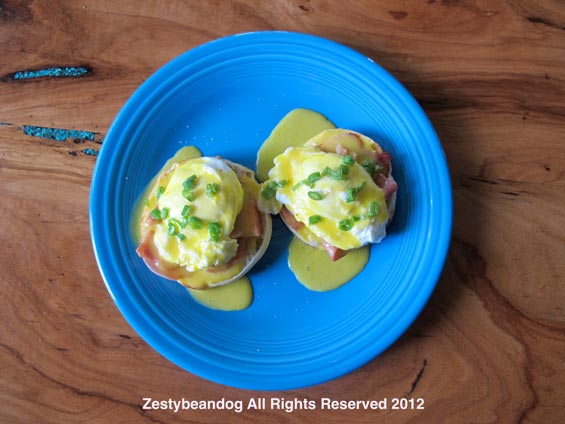 Egg's Benedict with Duck Egg and Yuzu Hollandaise (AKA Egg's Benny and the Jets)
Ingredients:
2 duck egg yolks
2 tablespoon yuzu juice
1/2 pinch ground white pepper
1/8 teaspoon Worcestershire sauce
1-1/2 teaspoons water
1/2 cup butter, melted
1/8 teaspoon salt
4 eggs
1 TBS distilled white vinegar
4 strips Canadian-style bacon, or thin sliced
2 English muffins, split
Note: You may want to have extra eggs on hand in case you mess up… Just Sayin'
Directions:
1. To Make Hollandaise: Fill the bottom of a double boiler part-way with water. Make sure that water does not touch the top pan. Bring water to a gentle simmer. In the top of the double boiler, whisk together egg yolks, yuzu juice, white pepper, Worcestershire sauce, and 1 tablespoon water.
2. Add the melted butter to egg yolk mixture 1 or 2 tablespoons at a time while whisking yolks constantly. If hollandaise begins to get too thick, add a teaspoon or two of hot water. Continue whisking until all butter is incorporated. Whisk in salt, then remove from heat. Place a lid on pan to keep sauce warm. This may take 1 or 2 tries… DON"T get it too hot or your will curdle your poor little eggy's!
3. Preheat oven on broiler setting. To Poach Eggs: Fill a large saucepan with 3 inches of water. Bring water to a gentle simmer, then add vinegar. Carefully break eggs into simmering water, and allow to cook for 2 1/2 to 3 minutes. Yolks should still be soft in center. Remove eggs from water with a slotted spoon and set on a warmed plate.
4. While eggs are poaching, brown the ham in a medium skillet over medium-high heat and toast the English muffins on a baking sheet under the broiler.
5. Spread toasted muffins with softened butter if desired (I didn't), and top each one with a slice of ham, followed by one poached egg. Place 2 muffins on each plate and drizzle with hollandaise sauce. Sprinkle with chopped chives and serve immediately.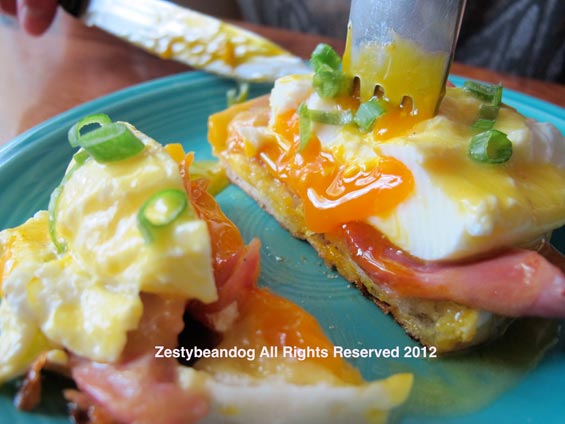 ENJOY! Cheers! BEST SERVED WITH A YUZU MIMOSA!
Check out my other Yuzu infused recipes!
___________
Browse More:
Yuzu Recipes on the Marx Foods blog