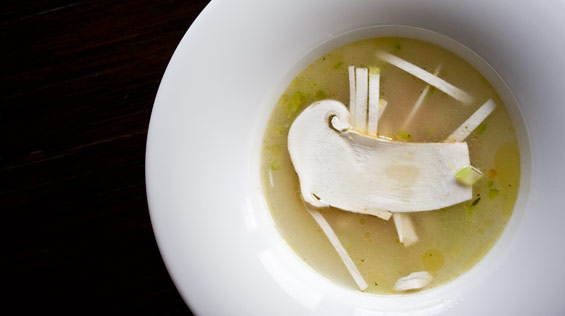 Wild Matsutake Soup
(6 servings)
Wine Pairing: Sauvignon Blanc from San Cerre or Albarino from Rias Baixas, Spain or Grunear Veltliner from Austria
This is a comforting soup with a slight pine note provided by the wild matsutake mushroom. Perfect for a cold winter's day. This recipe uses most of the fresh matsutake as a topping (preserving its raw texture and flavor) rather than cooking it into the soup. For a stronger matsutake flavor you could add more to the soup while it's cooking, or use the soup broth to reconstitute some dried matsutake mushrooms.
Ingredients:
4-6 chicken wings
6 cups chicken stock (either homemade chicken stock or store bought with the lowest salt content possible)
1 cup white wine
¾ cup carrots, finely diced
¾ cup onions, finely diced
¾ cup celery, finely diced
4 sprigs fresh thyme
1 large fresh matsutake mushroom

1. Brown the chicken wings in a sauce pan.
2. Deglaze with white wine.
3. Add the thyme sprigs and chicken stock.
4. Brush off the matsutake mushroom. Slice it as finely as possible (without breaking the slices) using a mandolin or a chef's knife. Throw any imperfect slices and edible scraps into the stock, but keep the best slices separate.
5. Simmer the soup for 45 minutes to an hour.
6. Sauté the diced onions, carrots, and celery in an oiled frying pan for about 2 minutes (you want them to still be slightly crunchy).
7. Strain the soup, and put it in bowls. Top with some of the sautéed vegetables and the thin slices of raw matsutake.

___________
Browse More:
Matsutake Mushroom Recipes
Mushroom Recipes by Variety