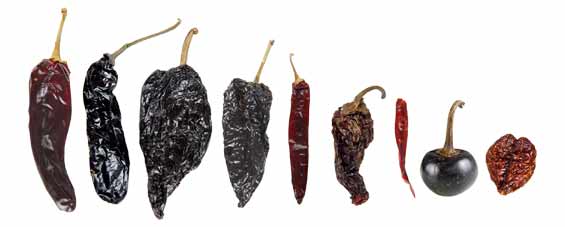 We just made up some sample packets of our dried chilies… and would like to offer them to any blogger who would like to test them out and share your experience and thoughts on your blog.  If you have already recieved one of these sample groups in the past, you can still participate…just pick a group you haven't tried!
We've separated the samples into three groups: mild, medium, and hot (group contents listed below).  If you want us to send you some via UPS, pick one group and email justin (at) marxfoods dot com with your selection, your blog URL and your mailing address.
Mild Dried Chilies: Aji Pancas, Anchos, Pasilla Negros, Cascabels, Mulatos, and Guajillos.
Medium Dried Chilies: Puyas, New Mexicos, Smoked Serranos, Chipotles, De Arbols, and Japones.
Hot Dried Chilies: Organic Aji Limo Rojos, Thais, Habaneros, and Ghost Chili (world's hottest!).
For more information on the heat levels and flavor profiles of these dried chilies, please visit our dried chile heat scale.  For cooking suggestions, please browse Dried Chile Recipes & Techniques.