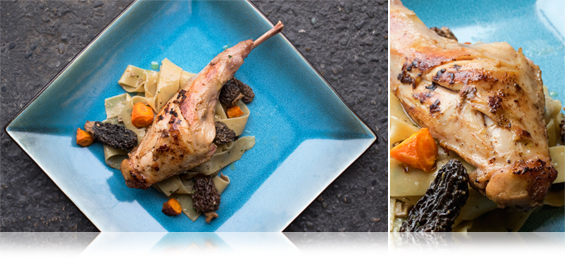 Rabbit Legs with Pappardelle, Wild Mushrooms & Carrots
Super tender sous vide cooked rabbit legs paired with roasted carrots & an earthy sauce of morel & porcini mushrooms, herbs & cream.
Wine Pairing: Red Burgundy
Ingredients:                                       Makes 2 Servings
2 Rabbit Hind Legs
½oz Dried Morel Mushrooms
½oz Dried Porcini Mushrooms
3 Carrots
2 tsp + 2 tbsp Olive Oil
Splash of White Wine
1 tsp Minced Thyme
1 tbsp Minced Parsley
½ package (4.4oz) Wheat Germ Pappardelle
¼ cup Cream
1 tsp Sherry Vinegar (we used Gran Reserva Sherry Vinegar)
2 tbsp Unsalted Butter
Black Pepper
Salt
Directions:
Cook the Rabbit Sous Vide: preheat your water bath 145°F. Season the rabbit legs with salt, vacuum pack them, and lower them into the bath.

Once the bath returns to temperature, start your timer & cook for 4 hours.
Preheat your oven to 400°F. Peel the carrots and cut them using the oblique/roll cut.  Toss them with salt, pepper, and the 2 teaspoons of olive oil.  Put them in a baking dish in the oven and roast for 20 minutes, until browned.
Rehydrate the mushrooms & reserve the (strained) soaking liquid for the sauce.
Bring a large pot of salted water to a boil.
Mince the porcinis.
Pour the remaining 2 tablespoons olive oil into a skillet over medium-high heat. Add the mushrooms & a generous pinch of salt.  Saute the mushrooms 5-7 minutes, until they brown.
Cook the pappardelle in the boiling water until very al dente (slightly undercooked).
Deglaze the mushroom pan with the white wine.
Simmer the white wine to reduce it until the pan starts to look dry.
Sprinkle in the minced herbs, ½ cup of the reserved soaking liquid, the cream, the sherry vinegar, the pappardelle and 1/4 cup of the pasta cooking water.
Cook, tossing the pasta, until the sauce has thickened. Stir in the butter until it melts, then remove the pan from the heat.  Season with salt & pepper.
Remove the rabbit legs from their bag, dry them off, and briefly sear them in a hot, oiled skillet until browned on the surface.
Serve the pasta in its sauce, sprinkled with roasted carrots & topped with the rabbit legs.
____________
Browse More:
Rabbit Recipes
Pasta Recipes
Mushroom Recipes