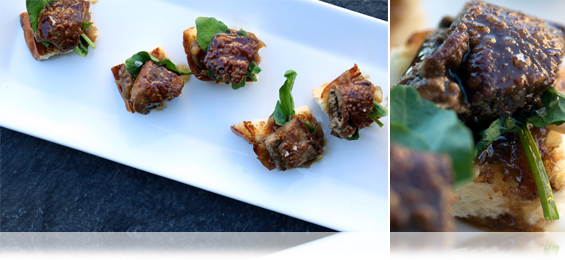 Rabbit Livers with Honey/Coffee-Roasted Shallot on Brioche

​
Rabbit livers are one of the more delicate varieties.  As long as you don't overcook them, they won't have the intense iron flavor you get with beef liver, etc.  Here we've paired them with brandy & coffee/honey slow-braised shallots to complement their depth, and tangy fresh watercress to balance out their richness.
Wine Pairing: White Burgundy
Ingredients:                                         
1/2lb Rabbit Livers
All Purpose Flour
Salt
2 tbsp Brandy
Fresh Watercress for garnish
Challah Slices, buttered & toasted
Plus: ½ recipe of Coffee/Honey Braised Shallots (with sauce separately)
Directions:
Remove any connective membranes from the outside of the livers.
Mince the braised shallots to a paste-like consistency.
Season the livers with salt, then toss them in a little flour to coat, shaking off any excess.
Brown the livers in a hot, oiled skillet, just until the blood rises to the surface, then flip them. You want them to cook no further than medium rare (no longer than 1 ½ minutes total cooking time).
Remove the livers from the pan, and pour in the brandy.
Return the livers to the pan & toss them with the brandy, then remove the pan from the heat.
Thinly slice the livers. Serve the slices on toast with the braised shallot mixture, a little bit of the shallot sauce, and some watercress leaves.
__________
Browse More:
Offal Recipes
Rabbit Recipes