Leek, Gruyere & Morel Frittata
Makes 4-6 Servings
DRINK PAIRING
Mimosa or Bloody Mary
Whipping a huge amount of air into the eggs is the secret to making this frittata as fluffy as a cloud. Intense earthiness from the morels flows through the tarragon into the flavor of the eggs with the leeks providing a light onion zing. The gruyere is incredibly rich (as it always is) but the intensity of the other flavors keeps it from becoming overwhelming.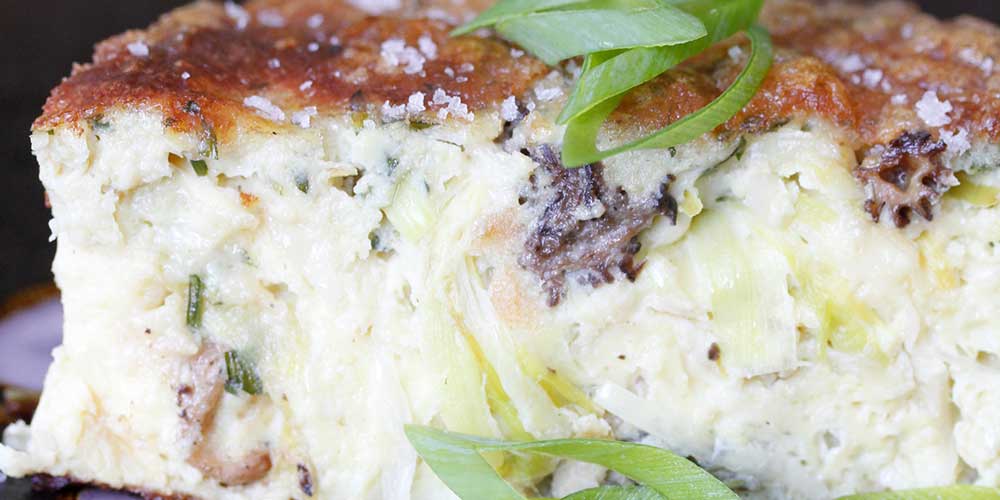 DIRECTIONS
1
Preheat your oven to 375.
3
Remove the top and bottom of the leeks, slice the remaining portion in half down the side. Wash the exposed inner layers to remove any in-grown dirt.
4
Slice the leeks into very thin strips (about 1 ½" long).
5
Melt 1 ½ tbsp butter in a frying pan and add the leeks. Sweat the leeks until they become tender and translucent (the heat should be low enough that they don't brown at all).
6
Once the leeks have cooked, remove them from the pan.
7
Saute
the garlic in the pan. Once it's softened, put it in a bowl with the leeks.
8
Put the eggs and a healthy pinch of salt to a blender. Blend on high until the eggs have dramatically increased in volume (1 1/2 minutes or so). They should be so full of air that they're almost white.
9
Put 1 tsp oil (olive or canola) and 1tbsp butter in a small cast iron skillet. Melt the butter, then remove from the heat.
11
Add some of the tarragon to the eggs and pour a layer of the egg mixture over the morel mixture in the pan.
12
Put the skillet over a burner set to medium low heat and cover the eggs with more leek, tarragon, garlic, gruyere and morels.
13
Pour the rest of the eggs (or as much as will go in to your pan without overflowing) in over the morels.
14
Continue to cook until the top starts to bubble slightly, then move to the oven to bake.
15
When the top has set and a knife inserted into the fritatta reveals that it is cooked but still soft, switch to the broiler and brown the top (you can top with additional gruyere before doing so if desired).