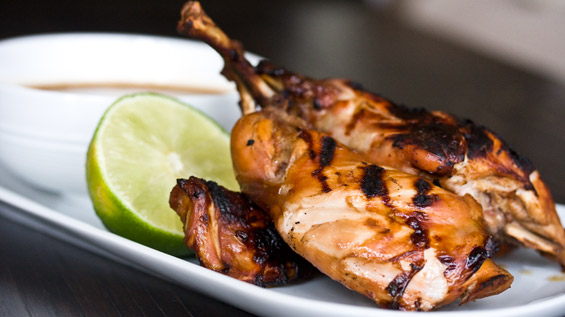 Grilled Rabbit Adobo
Adobo is a traditional Filipino dish involving meat dipped in a rich & creamy sauce with a sour-spicy finish. Tender, moist rabbit meat is the perfect base for enjoying the full range of its flavor.
Drink Pairings: Mezcal or Flemish sour ale
Ingredients: (4 Servings)
4 Rabbit Hind Legs (if cutting from Whole Rabbit Fryers see How to Fabricate a Rabbit for tips)
1 cup of Soy Sauce
½ cup of Rice Wine Vinegar
1 tbsp Garlic, minced
1 tbsp Ginger, peeled and minced
1 cup of Water
1 ½ + ½ cups Coconut Milk
1 tsp Hungarian Paprika
1 small Jalapeno, small diced
1 tbsp Lime Juice, fresh squeezed
Lime Zest for garnish
Directions:

1. Combine the soy sauce, vinegar, garlic, ginger, ½ cup of the coconut milk, paprika, jalapeno and water in a deep pan or skillet.

2. Simmer the sauce on the stove for 5 minutes.
3. Carefully lay the rabbit legs in the sauce, and continue to simmer for 20 minutes (flipping the legs about halfway through) until the rabbit is almost completely cooked.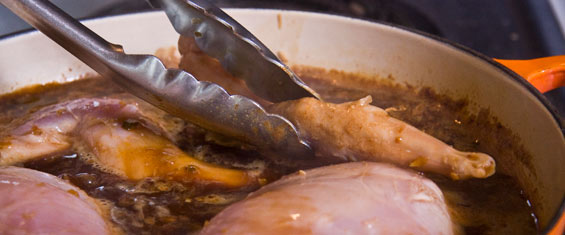 4. Preheat your grill.
5. Once the rabbit meat is firm and white, remove it from the pan, and add the other 1 ½ cups of coconut milk to the adobo sauce.

6. Simmer the adobo until it has reduced to a sauce consistency. Strain.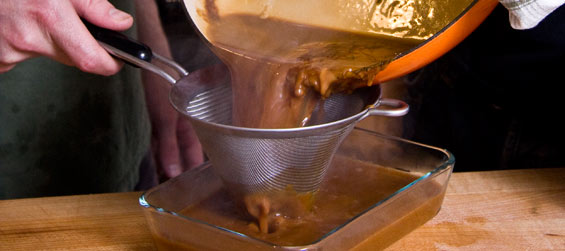 7. Grill the rabbit legs for a couple of minutes (turning as necessary), just until black grill marks and a brown crust have developed.

8. Stir the lime juice into the adobo, garnish with the lime zest & serve on the side with the rabbit legs.

___________
Browse More:
Rabbit Recipes