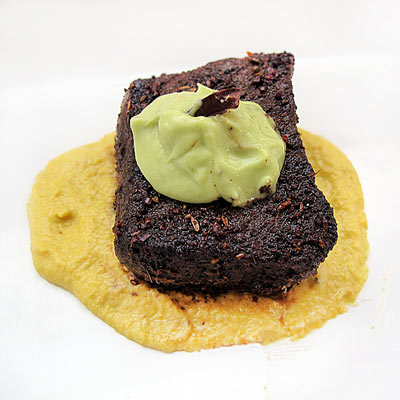 Cocoa Nibs and Cumin Crusted Sirloin Medallion with Smoky Corn Puree and Avocado Mousse
This is a delicious summertime meal with seared New Zealand top sirloin (rump heart) beef medallions crusted with raw cocoa nibs and cumin seeds, smoky corn puree, and refreshing avocado mousse.
Ingredients:
Sirloin Medallions:
3 tablespoons raw cocoa nibs
1 tablespoon whole cumin seeds
Salt to taste
6 Top Sirloin (Heart of Rump) Medallions, 1 inch thick.
1 tablespoon oil
1 tablespoon butter
Smoky Corn Puree:
3 1/2 cup fresh corn kernels, cut off the cob
1 tablespoon liquid smoke
Salt to taste
3/4 cup heavy cream
Avocado Mousse:
1 avocado, peeled and mashed
2 tablespoons Meyer lemon juice
4 tablespoons mayonnaise, preferably homemade (how to make mayonnaise)
Salt to taste
1 tablespoon avocado oil
Directions:
Sirloin Medallions:
1. Toast raw cocoa nibs and cumin seeds in a skillet for a few minutes, stirring frequently. Grind into a powder in a coffee or spice grinder (how to grind spices).
2. Sprinkle the medallions with salt and rub with cocoa nib-cumin mixture on all sides. Let them sit at room temperature for about 10 minutes.
3. In a skillet, heat oil and butter. Sear medallions, about 3-4 minutes per side for medium-rare.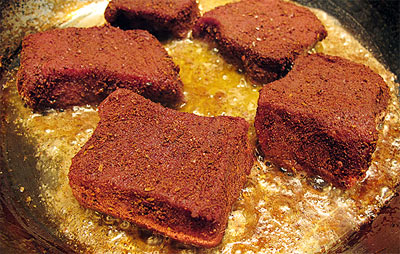 Smoky Corn Puree:
1. Toss corn kernels with liquid smoke and a little bit of salt.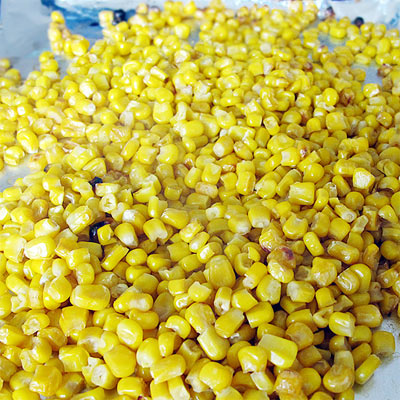 2. Spread out on a baking sheet, lined with parchment paper or foil. Broil, stirring occasionally, until the corn kernels are starting to get golden brown.
3. Puree in a food processor with cream, and strain, pushing the corn puree out with a wooden spoon as much as possible.
Avocado Mousse:
1. Place the avocado, Meyer lemon juice, mayonnaise in a food processor and blend until smooth.
2. While the processor is still running, slowly drizzle in the avocado oil. Season with salt to taste.
To Assemble
1. Place a scoop of smoky corn puree in a middle of each plate, followed by one or two medallions.
2. Top each medallion with a dollop of avocado mousse.
Recipe Development & Photography by Natasha Price, 5 Star Foodie
___________
Browse More:
Grass-Fed beef Recipes
Spice Recipes