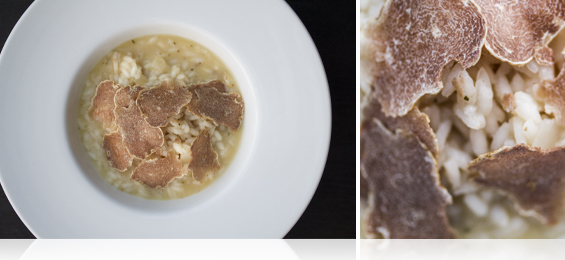 Alba White Truffle Risotto
This is a simple, classic risotto with a few subtle twists (vermouth and rosemary) followed by a show-stopping finish – white Alba truffles. Of course, you could also substitute more affordable Oregon Truffles or even a drizzle of white truffle oil…but Albas are the world's finest white truffles for a good reason, and shaving them over this risotto makes it suitable for royalty.
Drink Pairing: White Burgundy Wine
Ingredients: Makes 2-4 Servings/
¼ cup Olive Oil
1 ½ cups Carnaroli Rice
½ cup Parmigiano Reggiano Cheese
1 Small Onion, small diced
½ tsp Salt, plus extra to taste
1 tbsp Alba White Truffle Bits (any parts of the truffle that wouldn't look pretty sliced)
½ cup Dry White Vermouth
3 tbsp Unsalted Butter
½ tsp minced Fresh Rosemary
1 quart + 1 cup Chicken Stock (as low salt as possible…preferablyhomemade chicken stock)
Fresh White Alba Truffles
Directions:
1. Get the olive oil hot in a large frying pan. Put the chicken stock in a separate small pot over medium low heat.
2. Add the onion & rosemary to the pan & sweat it until the onion is tender. Add the white truffle bits and the carnaroli rice.
3. Stir the rice for about a minute to coat it with the oil.
4. Deglaze the pan with the vermouth. Increase the heat to medium-high heat.
5. When the vermouth has evaporated, add a cup of the chicken stock.
6. Continue to simmer, stirring frequently. When the liquid has mostly evaporated (you draw the spoon through the rice and a strip of bare pan is revealed), add an additional ¾ cup.
7. Continue to cook, adding more stock as necessary, until the rice is almost cooked to your liking.
When you're down to the last cup of chicken stock, add the butter to it.
8. Add the parmesan cheese, then pour in the remaining stock (with the butter).
9. Take the rice off the heat and continue stirring so that the stock slowly absorbs into the rice. Keep stirring until it reaches the consistency you prefer.
10. Serve the risotto in bowls topped with shavings of white Alba truffles.

____________
Browse More:
Truffle Recipes
Risotto Recipes