Wild Boar Sausage Pizza with Radicchio, Basil, Balsamic & Pecorino
Makes 4 Servings
WINE PAIRING
Chianti Classico
This simple pizza recipe balances the richness of parmigiano reggiano & pecorino romano cheeses with bitter radicchio, boldly savory wild boar & tangy-sweet balsamic vinegar.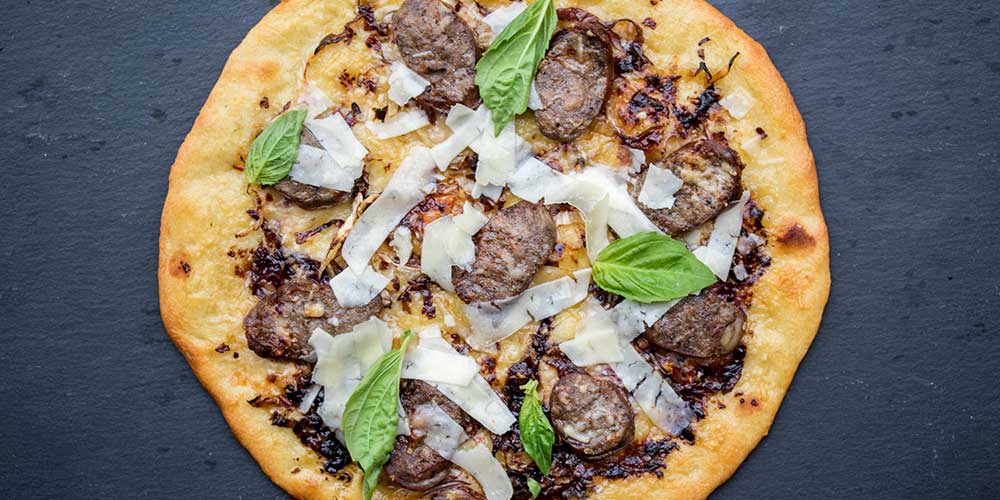 DIRECTIONS
1
Preheat your oven to as high as it can go (550°F, for example)
2
Sear the sausage on all sides in a hot, oiled frying pan until the casing is browned & crisped. Remove the sausages from the pan. Once they've cooled enough to handle, slice them ¼" thick into rounds or on the bias.
3
Roll the pizza dough out on to a lightly floured cutting board or counter top. Pull & roll it to 1/8" thickness. You can make one large pizza or four small pizzas.
4
Brush the top of the pizza with the extra virgin olive oil. Sprinkle the oil with the chopped radicchio & red chile flakes to taste. Sprinkle the raddichio with a little salt.
5
Sprinkle the pizza with the parmigiano reggiano cheese, then add the sausage slices.
6
Put the pizza on a baking sheet, pizza pan, etc & bake it until crisped & browned.
7
Remove the pizza from the oven. Sprinkle it with the basil leaves & pecorino romano cheese. Drizzle it with the balsamic & serve.