Bucatini all' Amatriciana with Wild Boar Sausage
Makes 2 Servings
WINE PAIRING
Brunello
The great thing about sausage is that it brings a lot of flavor to dishes with very little work. Here we've used wild boar sausage in meaty, rich, tangy & spicy Amatriciana (aka Sugo) sauce in place of the traditional guancale.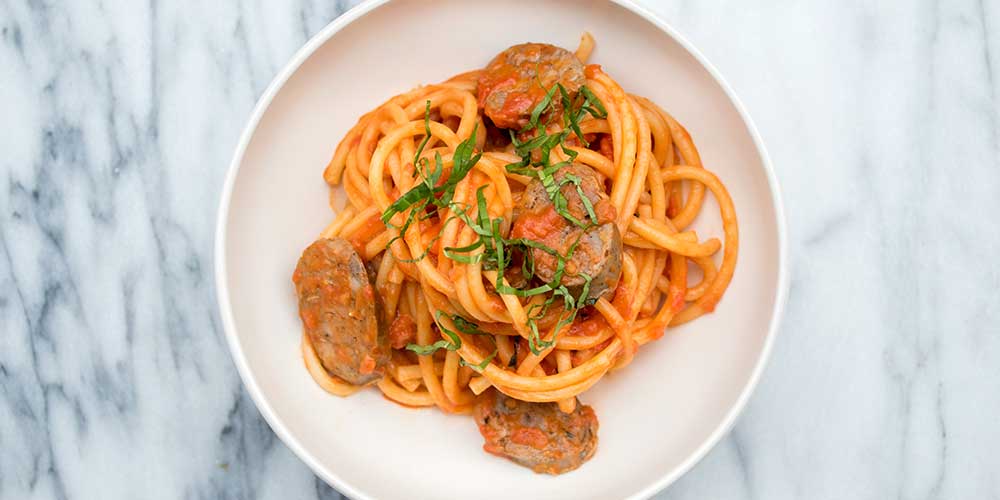 INGREDIENTS
20oz Can Whole Tomatoes (we used Miur Glen)

2 tbsp Unsalted Butter

2 tbsp Olive Oil

¼ tsp Chile Flake

1/2lb Dried Bucatini Pasta

½ cup finely grated Parmigiano Reggiano Cheese

2 tbsp Extra Virgin Olive Oil

½ tsp Sherry Vinegar (we used Gran Reserva)

¼ thinly sliced (chiffonade) Fresh Basil Leaves
DIRECTIONS
1
Puree the tomatoes (with their juices from the can) in a blender or food processor.
2
Melt the butter in a pot with the olive oil. Add the sausages & sear them on all sides, until the casings have crisped & browned.
3
Remove the sausages from the pan.
4
Add the chile flakes & sizzle them in the residual fat until aromatic.
5
Pour in the tomato puree & simmer for ten minutes.
7
While the sauce is simmering, cook the pasta in salted water (1 tbsp salt per 4 quarts of water) until 4 minutes shy of the cooking time on the packaging.
8
Drain off the water from the pasta, reserving about ¼ cup of the water.
9
Add the pasta to the sauce, along with the reserved pasta water, sausage slices, and parmigiano reggiano cheese. Cook for an additional four minutes, or until the pasta is al dente.
10
Stir in the extra virgin olive oil, sherry vinegar, and fresh basil leaves. Serve.