Venison Sausage with Charred Cabbage
Makes 4 Servings
WINE PAIRING
Domestic Syrah
This German-inspired dish couldn't be much easier – you use the same technique for both the sausages and the cabbage, then serve with your favorite starchy side. The flavors in the sausage do all the heavy lifting.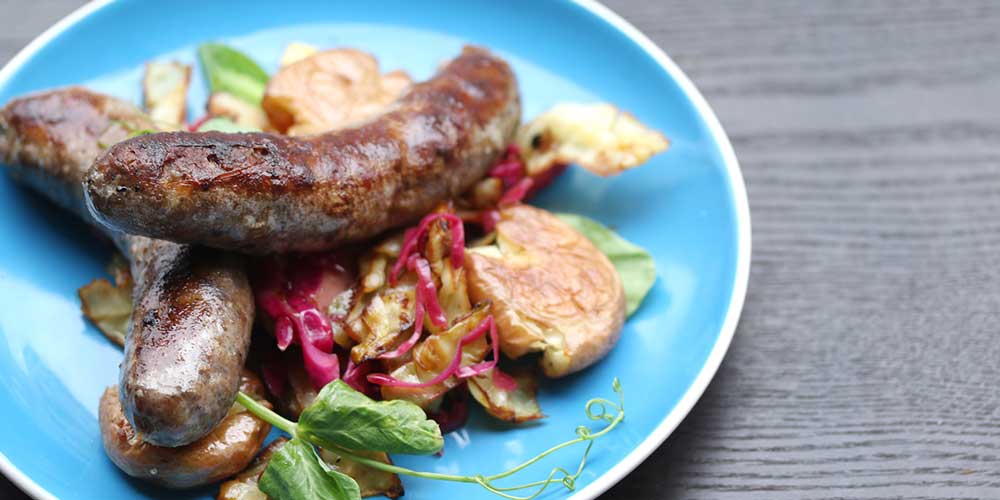 INGREDIENTS
Sausages:

¼ cup Stock

1 tbsp of Canola Oil
Cabbage:

2 cups Green Cabbage Leaves in ½" wedges

¼ cup Stock

1 tbsp of Canola Oil

½ Pickled Red Cabbage Recipe

Grainy Mustard
Recommended Side:

Smashed Baby Red Potatoes or Butter-Sautéed Spätzle
Optional Garnish:

Pea Tendrils
DIRECTIONS
1
Put the sausages into the pan with the stock. Bring the stock to a boil, then turn the heat down to Medium Low & simmer with the lid on for 8-10 minutes.
2
Remove the lid from the pan & increase the heat to High. Continue to simmer until the liquid evaporates, then add the oil & sear the sausages on all sides to brown & crisp the casing.
3
Repeat the exact same process in a separate pan with the cabbage, searing until it's charred.
4
Toss the charred cabbage with the pickled cabbage.
5
Serve the sausages with the cabbage blend, your starch of choice, and some grainy mustard on the side.