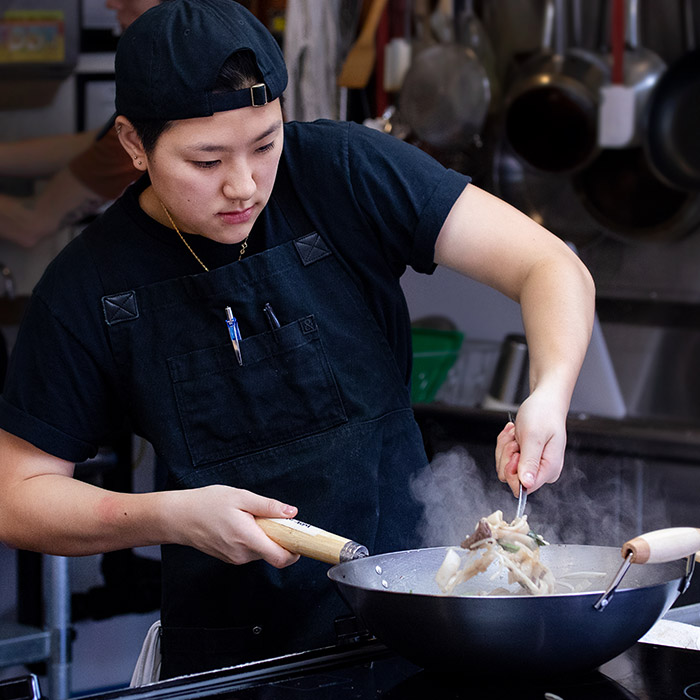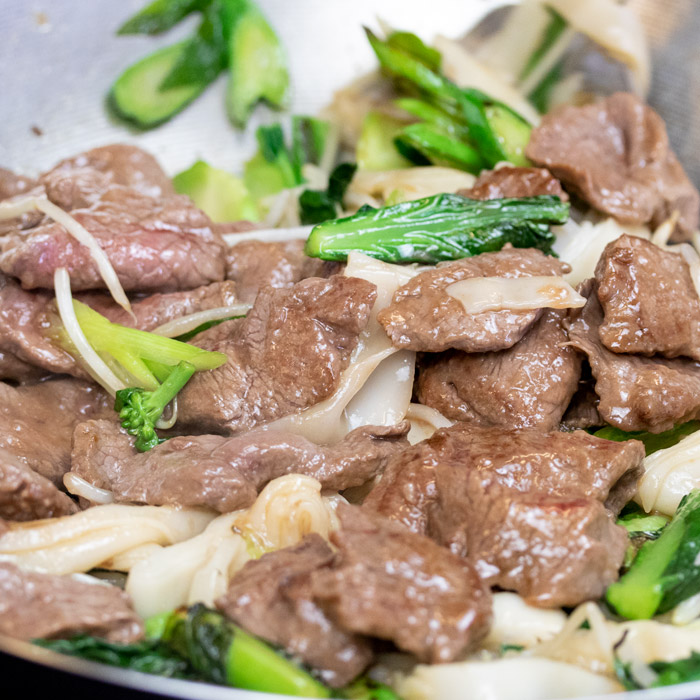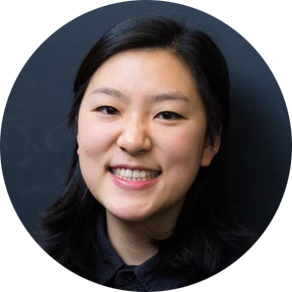 "Venison is a great choice for high heat cooking like stir fry. Part of this was probably due to the cornstarch marinade — a common Chinese technique to protect the meat from the intensity of the wok — but using an already tender cut of venison made the final recipes extra delicious. It was so easy to slice, too. I've made stir fries with beef flank steak and top sirloin before, and the venison was definitely an improvement."Jade
---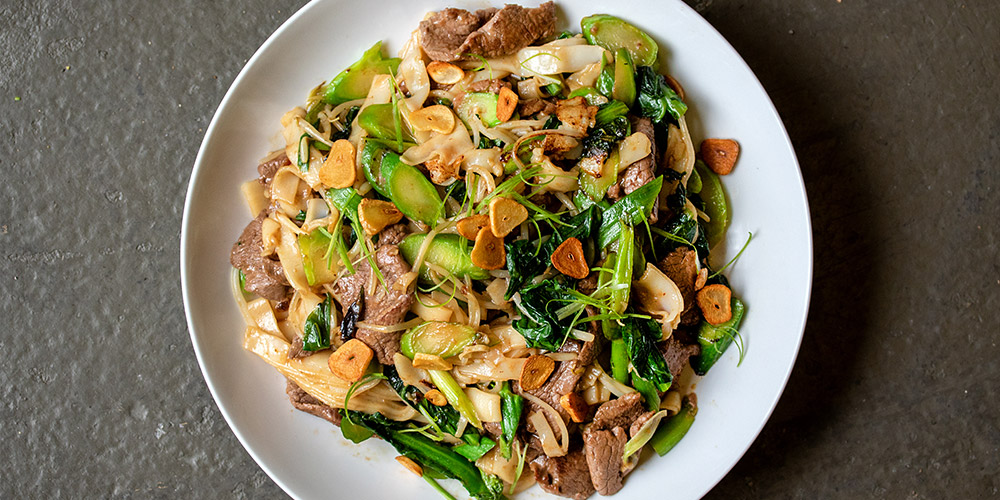 INGREDIENTS
For the Marinade:

1lb Venison Denver Leg, sliced against the grain into strips (approx.. 1" x 2")

2 tbsp Soy Sauce

1 tbsp Shaoxing Wine

1 tbsp Water

2 tsp Cornstarch
For the Fried Garlic:

¼ cup Peanut Oil

5 cloves Garlic, sliced
For the Stir Fry:

2 tbsp Garlic Oil (from the Fried Garlic), divided

1 bunch Gai Lan, cut into 2" lengths

1 cup Bean Sprouts, cleaned (tails removed)

1lb Fresh Wide Rice Noodles (Ho Fun)

1 tbsp Oyster Sauce

1 tbsp Soy Sauce
DIRECTIONS
1
Combine the sliced venison, soy sauce, Shaoxing wine, water and cornstarch in a bowl and stir to coat.
2
Marinade for 15-20 minutes while preparing vegetables (mise en place) and fried garlic.
"Remove the 'tail' of the bean sprouts (the root end that turns a little bit brown). You don't even need a paring knife. Just use your fingers. They don't taste good and turn the bean sprout brown."
- Jade
3
Add the ¼ cup of peanut oil to a wok (or large cast iron skillet or Dutch oven).
4
When the oil is heated, fry garlic slices until golden brown and crisp. Remove from the oil and drain on paper towels.
5
Reserve two tablespoons of oil. Strain and save the remainder to use again later.
6
Heat 1 tablespoon of the garlic-infused oil to medium-high heat.
7
Remove the venison from the marinade, add to the wok and cook in a single layer undisturbed for 30-45 seconds, then cook for an additional 30-45 seconds until just browned. (You may have to do this in batches, setting the cooked venison strips aside.)
8
Transfer all the cooked venison to a plate and set aside.
9
Wipe out the wok or skillet and add the remaining 1 tablespoon garlic oil.
10
Once the oil is hot and shimmering, add the gai lan and stir fry for 2-3 minutes until tender.
11
Add the bean sprouts and scallions to the wok and stir fry for 1-2 minutes.
12
Add the noodles, oyster sauce and soy sauce.
13
Gently toss and stir the noodles for 1-2 minutes until they're well coated with the sauce and cooked through.
14
Turn off the heat, add the venison to the noodles and toss to combine.
15
Garnish with the crispy fried garlic and serve.