Thai Roasted Chicken Wings
Makes 4-6 Servings
WINE PAIRING
Gewurztraminer
Succulent & rich, chicken wings are a game day staple, but you can do so much better than buffalo sauce from a bottle. This recipe is an exciting alternative that requires very little work.
The marinade gives these wings tons of flavor, but if you want to add even more, you can serve them with a sweet chile dipping sauce (store-bought or homemade).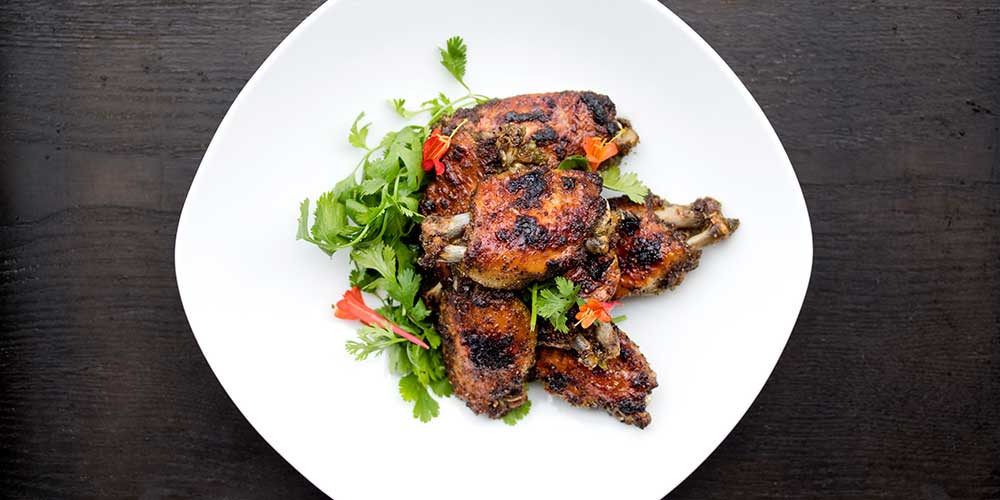 INGREDIENTS
Marinade:

2 tsp Coriander Seeds, toasted & ground

2 tbsp grated Fresh Ginger

2 tbsp Oyster Sauce

½ cup chopped Cilantro Stems

1 tbsp Fish Sauce (we used Red Boat Fish Sauce)

4 Garlic Cloves, peeled

1 tbsp Freshly Ground Black Pepper

1 large or 2 small Fresh Thai Chilies

1 tbsp Canola Oil
2lb Chicken Wings (ideally "Party Wings" which have the wing tip/nubbin cut off)

1 + 1 tbsp Canola Oil
DIRECTIONS
1 Hour or (Ideally) the Day Before:
1
Use a blender or food processor to puree together all the marinade ingredients.
2
Pour the marinade over the chicken wings in a bowl, zip top bag or baking dish, tossing to ensure they're well coated.
3
Cover or close the container and put it in the refrigerator to marinate for at least an hour, preferably overnight.
An Hour and a Half Before Serving:
1
Preheat your oven to 400°F.
2
Line a baking sheet with a lip (sheet pan) with aluminum foil. Brush the foil with one of the remaining tablespoons of oil.
3
Pour the contents of the wing container out onto the baking sheet, spreading the wings out into a single layer.
4
Drizzle the wings with the last tablespoon of oil and move the pan to the oven to roast. Roast the wings until they crisp, brown, and cook through – about 50-60 minutes.
5
Optional: To further brown & crisp the wings, switch the oven from bake to broil. Keep a close eye on them to ensure they don't burn.
6
Transfer the wings to a platter & serve.