Teres Major Steak Tartare
Makes 2-4 Servings
WINE PAIRING
Anything bubbly & crisp
Teres major combines extreme tenderness with bold, beefy flavor. It really shines in this classic steak tartare.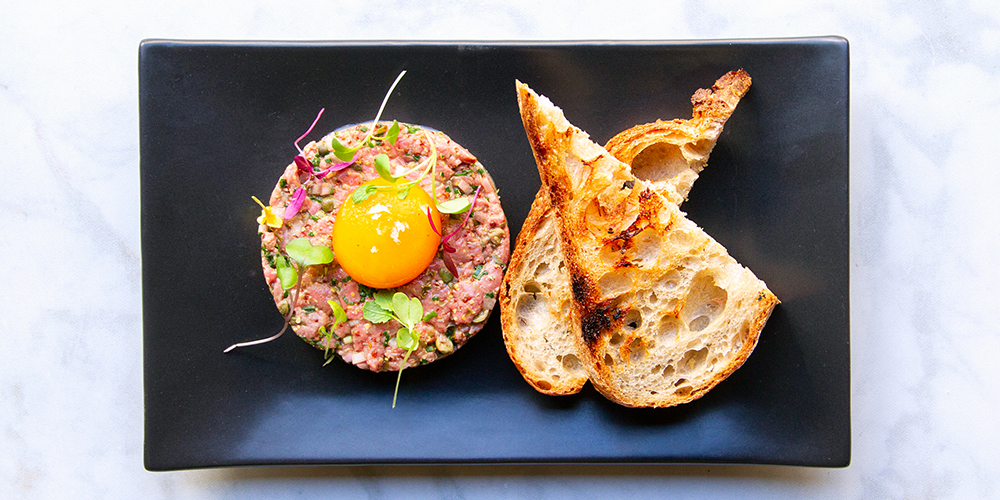 INGREDIENTS
8-10oz raw teres major, very cold, minced by hand
1 egg yolk


1/2 cup reduced beef stock

1 small shallot, minced

2 Tbsp capers, minced

2 Tbsp cornichons, minced

1 Tbsp flat-leaf parsley, minced

1 Tbsp chives, minced

1 tsp fresh dill, minced

1 garlic clove, grated

1 Tbsp high-quality olive oil

1 Tbsp stone-ground mustard

Salt & pepper to taste
DIRECTIONS
1
Fully submerge the egg yolk in beef stock. Let sit for at least 1 hour and up to 3.
2
Mix all other ingredients except for beef in a bowl. Combine well and chill.
3
When ready to serve, add cold, minced raw meat to the other chilled ingredients and gently mix.
4
Pack the combined mixture into a ring mold set on a serving plate.
5
Carefully lift the egg yolk from the stock and place it on the center of the meat. (Making a shallow depression in the meat first with the back of a spoon might facilitate this.)
6
Serve with grilled sourdough.