Sweet Potato Pancakes with Currant-Shallot Jam and Foie Gras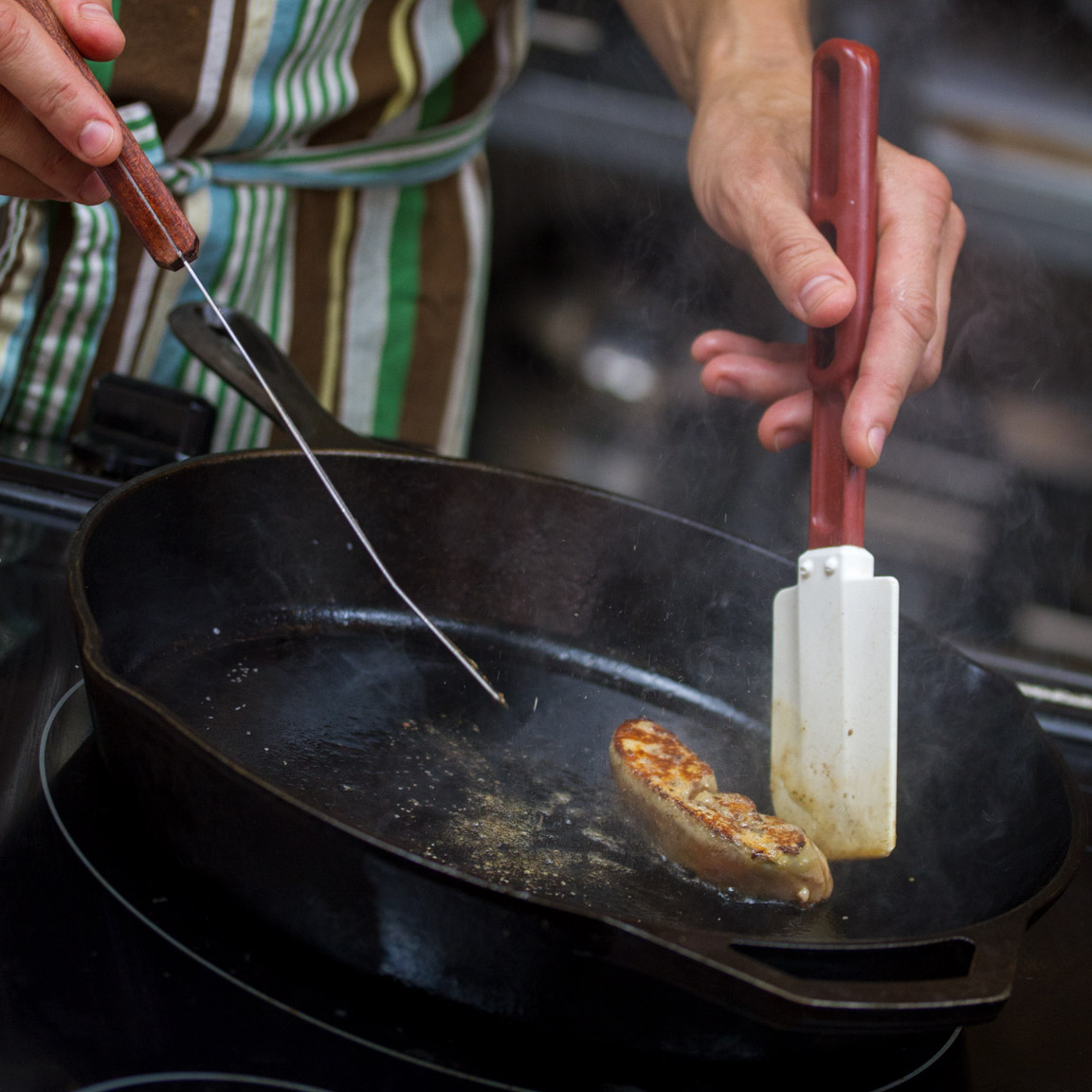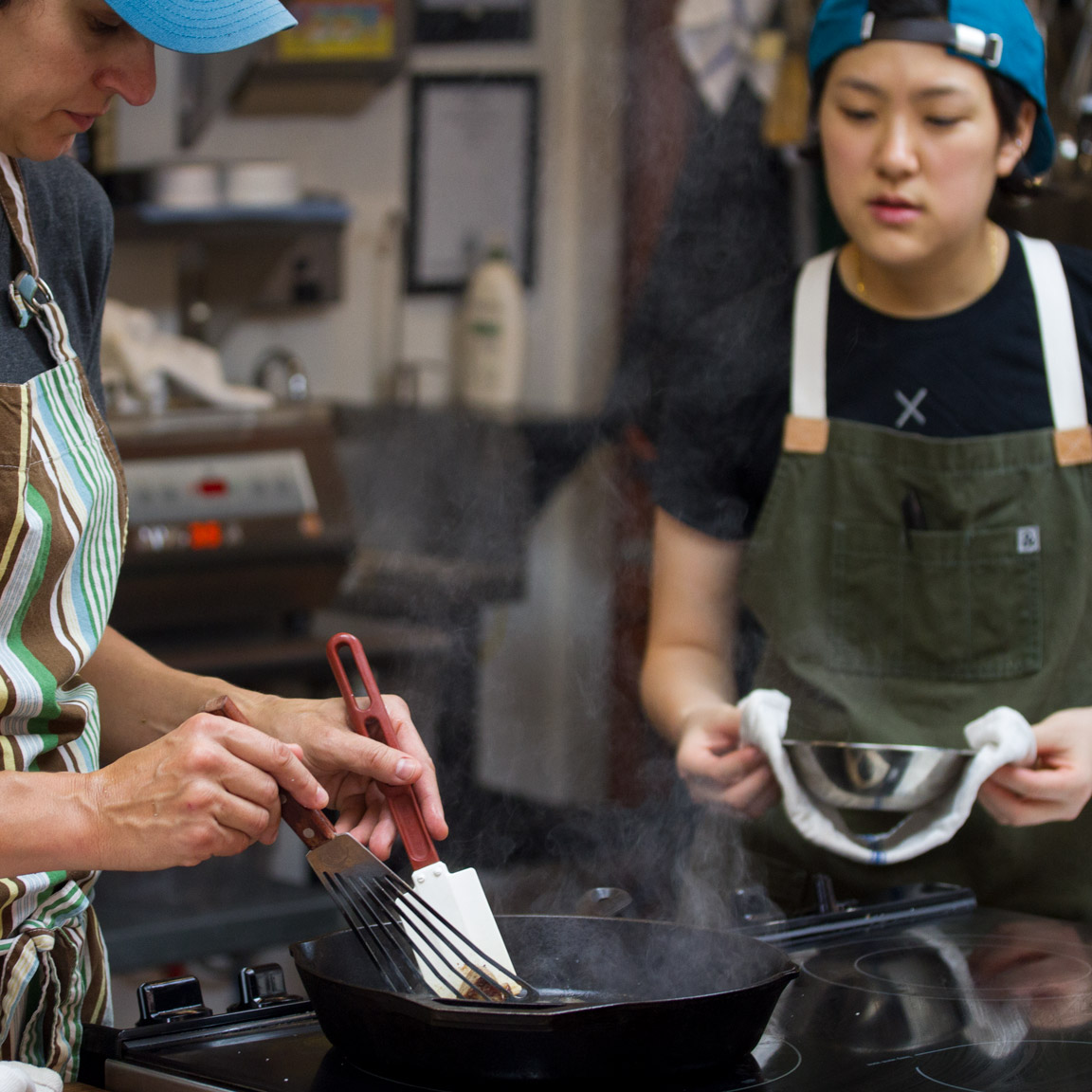 Makes 4 Servings
WINE PAIRING
Sauternes
This recipe pairs exquisitely rich seared foie gras with a savory-sweet currant-shallot jam and creamy sweet potato pancakes.
We used grade A foie gras in this recipe because it offers the smoothest texture and cleanest, sweetest flavor – making it ideal for sliced & seared applications. However you could also use lower cost grade B foie gras. We do not recommend using grade C for this dish.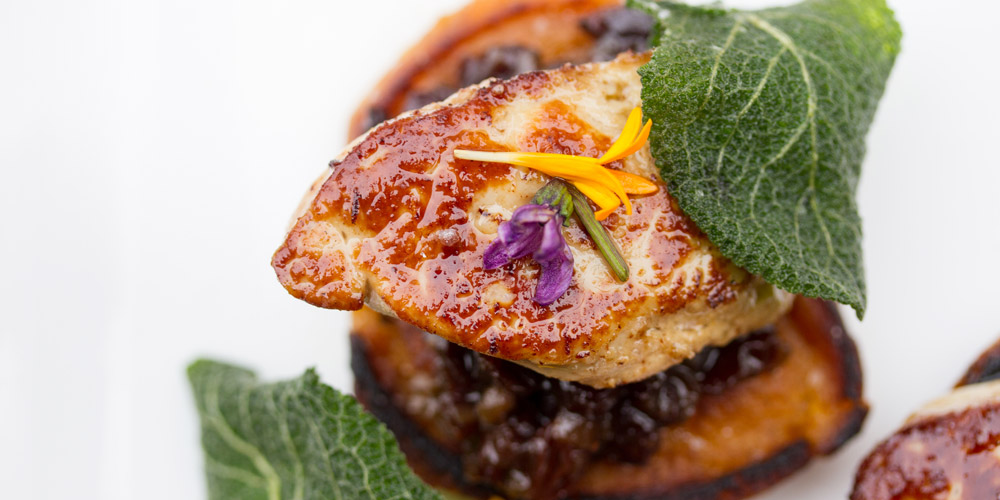 INGREDIENTS
Currant Shallot Jam

1 Shallot, minced

¼ tsp Salt

½ cup Zante Currants

½ cup Brandy

2 tbsp Rendered Foie Gras Fat, Duck Fat, or Unsalted Butter

1 tbsp Honey

½ cup Water
Sweet Potato Pancakes

1 Sweet Potato

4 tbsp Unsalted Butter

2 Large Eggs

1/3 cup Granulated Sugar

½ cup All Purpose Flour

½ tsp Baking Powder
Fried Sage

½ cup High Heat Oil

½ cup Fresh Sage Leaves

1 pinch of Salt
DIRECTIONS
1
Soak the currants in the brandy (we soaked ours for 2 hours, but you may not need to wait as long).
2
Melt the foie fat/duck fat/butter in a frying pan & caramelize the shallot with the salt, adding some of the brandy from the currants, as needed, in order to keep the pan from getting too dry.
3
Add the currants & the rest of the brandy to the pan, along with the honey and water.
4
Simmer until the mixture reduces to a jam consistency, then remove the pan from the heat.
Make the Sweet Potato Pancakes:
1
Preheat your oven to 400°F.
2
Prick the skin of the sweet potato all over with a knife. Wrap it in foil & bake it in the oven until it's tender (about an hour).
3
Scoop the flesh out of the sweet potato and puree it in a food processor. Let it cool completely.
4
Put the 4 tablespoons of butter in a small pan on the stove over medium-low heat. Melt the butter, and then continue to cook until it develops brown flecks and starts to smell nutty. Remove the pan from the stove and let the butter cool completely.
5
Whisk the eggs and sugar together, then slowly whisk in the flour and baking powder.
6
Fold in the cooled butter and sweet potato puree.
7
Spoon or pipe the batter into a hot oiled pan or skillet to form small rounds. Cook as you would conventional pancakes (until the bottom is browned, then flipping to cook the rest of the way).
8
Put the finished pancakes between layers of towels or paper towels to keep them warm while you cook the foie.
Cook the Foie & Finish the Dish:
1
Salt the foie gras & sear it in a dry, very hot pan over high heat, just until each side has browned. Immediately remove it from the pan to a paper towel to drain.
2
Plate the pancakes topped with some of the jam, and the jam topped with a slice of foie. Sprinkle each piece of foie with some flake salt & top it with a fried sage leaf.