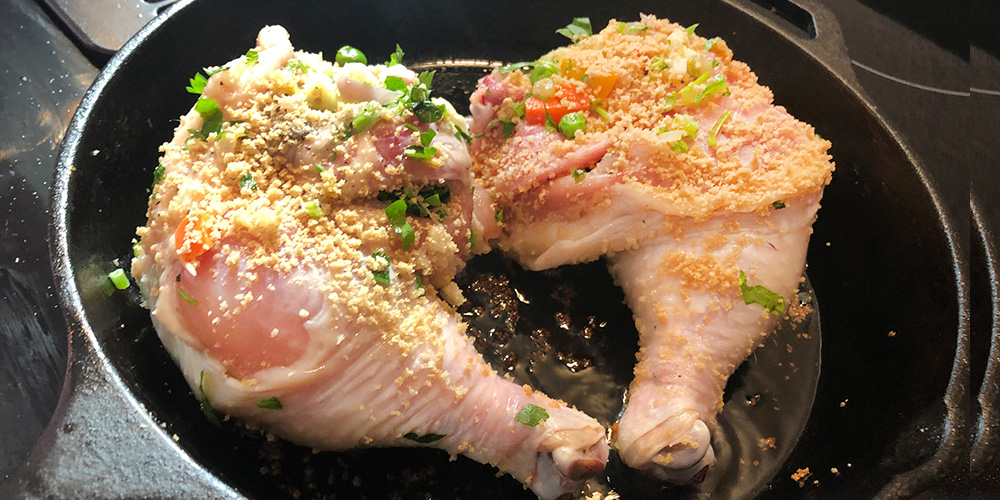 INGREDIENTS
2 large chicken legs

¼ cup finely chopped carrots

½ cup frozen green peas

½ a cup celery stalk

½ a cup chopped kale, or ½ cup chopped mushrooms if you prefer

1/5 cup chopped onions (preferably red)

2 cloves of garlic chopped (crushed with a knife before chopping, for more flavor)

½ cup chopped parsley

1 cup panko

1 egg

4 tablespoon of olive oil

Salt

Pepper

Optional lime juice and fresh basil
DIRECTIONS
1
Sprinkle salt on the legs, and add a little black pepper on each side. Rub the salt very well in the meat, spreading it under the skin too. Put your fingers under the skin, making space for the stuffing.
2
Sautee the vegetables in a skillet (cast iron if possible) on olive oil (use 1 tablespoon) on medium heat for about 5 minutes. Remove skillet from heat and transfer to a bowl, and let it sit to cool the mixture down.
3
Add parsley, garlic, ½ cup panko, egg and work it well together. Add a little salt and pepper too.
4
Preheat oven to 350 F. Pull up the skin, and stuff the legs using as much mixture as you can. Use tooth picks or a meat pin to attach the skin to the meat.
5
Add ½ cup panko on a plate and dip both sides of the legs in it. Add 3 tablespoons of olive oil and place legs in the skillet. Pan fry both sides on medium heat for about ten minutes.
6
Remove from stove top and transfer skillet to the oven. Oven fry for about 30 minutes, check with a fork if it is fully cooked.
7
If necessary, cook for a few more minutes. In the end, you can optionally squeeze a few drops of lemon or lime juice on the legs, and sprinkle with chopped basil.