Sirloin Flap Meat Carne Asada
Makes 4-6 Servings
WINE PAIRING
Fruity, lighter-bodied reds, such as Malbec or Tempranillo.
Carne Asada is often made with skirt steak, but we like to use sirloin flap meat (aka bavette steak). Like skirt or flank steak, flap meat has a coarse grain that takes well to marinade. Even without a marinade, flap meat is extremely tender with a bold, beefy flavor.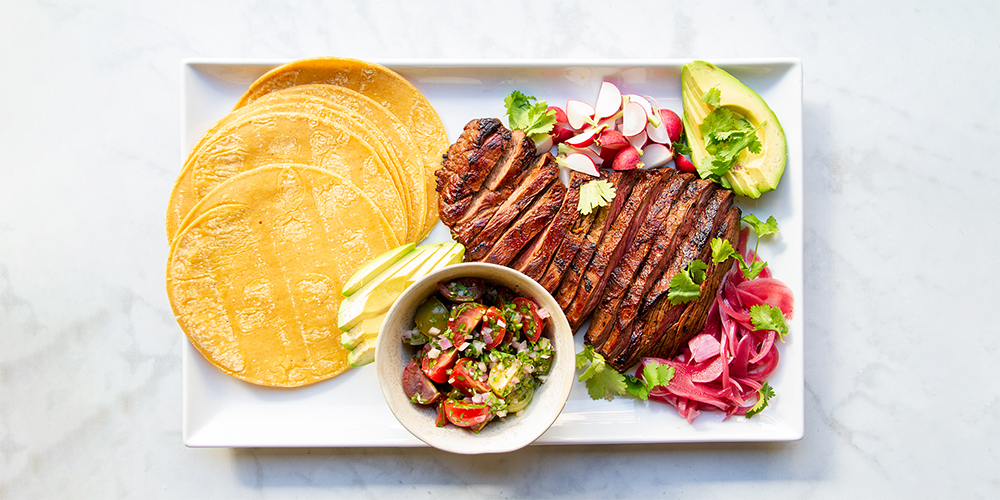 INGREDIENTS
MARINADE:
Juice from 2 fresh oranges


Juice from 3 limes

2 Tbsp extra-virgin olive oil

3 Tbsp soy sauce

2 Tbsp fish sauce

6 garlic cloves, smashed

2 Tbsp New Mexican Chile Powder

1 Tbsp ground cumin

1 tsp ground coriander

1 tsp ground Mexican oregano

2 Tbsp honey
DIRECTIONS
Combine all ingredients and marinate the meat overnight.
1
Grill steaks over high heat to medium rare. Let rest 5 minutes before slicing across the grain.
2
Garnish with cilantro, radishes, pickled vegetables, and lime wedges.
3
Serve with tortillas, pico de gallo, and guacamole or sliced avocado.