Seared Lamb Striploin with Grilled Rapini & Marinated White Beans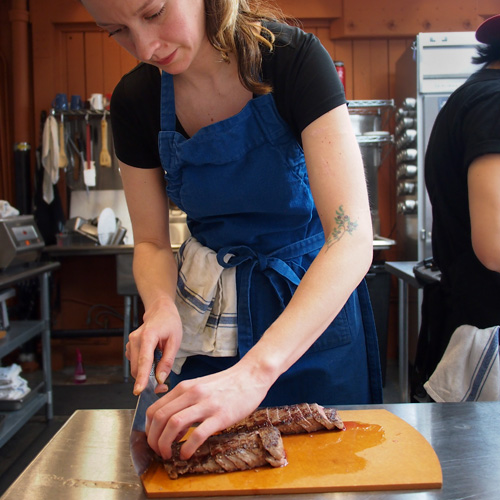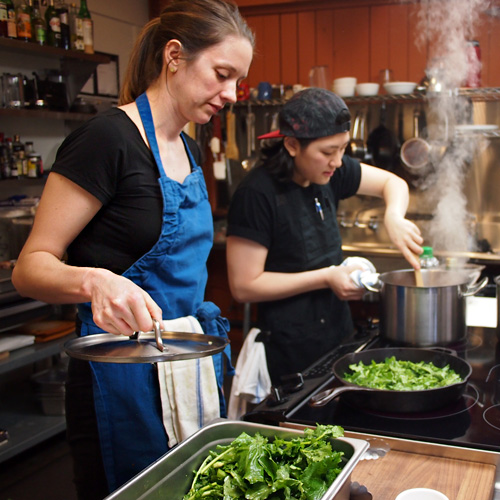 ---
Our Staff Culinarian Liv concocted this quick meal at home one night in the dead of winter. The flavors will immediately whisk you away to warmer days and the recipe is adaptable to cook year-round either indoors or outside on the grill. Boneless lamb striploins are tender, flavorful and don't require much effort or cooking time, making it easy to enjoy lamb on a weeknight.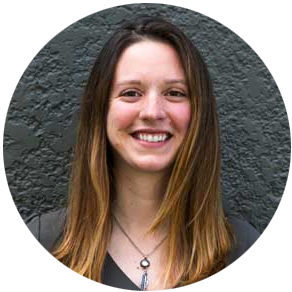 "My recipe is so desperately wishing it was summer out. This is something I will definitely grill when the weather is warmer. I like to be cooking, but I want manageable things that I can make as part of my routine. This was easy to insert into my weekly meal plan. I made this and thought, 'I want to eat this lamb every day! It's the best in the world!'Liv
Makes 2 Servings
WINE PAIRING
An acidic red, like Rioja or Barbera
The boneless lamb striploin is an accessible, flavorful cut that cooks quickly. Says Liv: "The striploin is the intersection of tenderness and flavor. It's so straightforward and gives you some of the lambiness, so you know what you're eating, but it's not gamey or overwhelming. The prep is nothing and the size is really nice."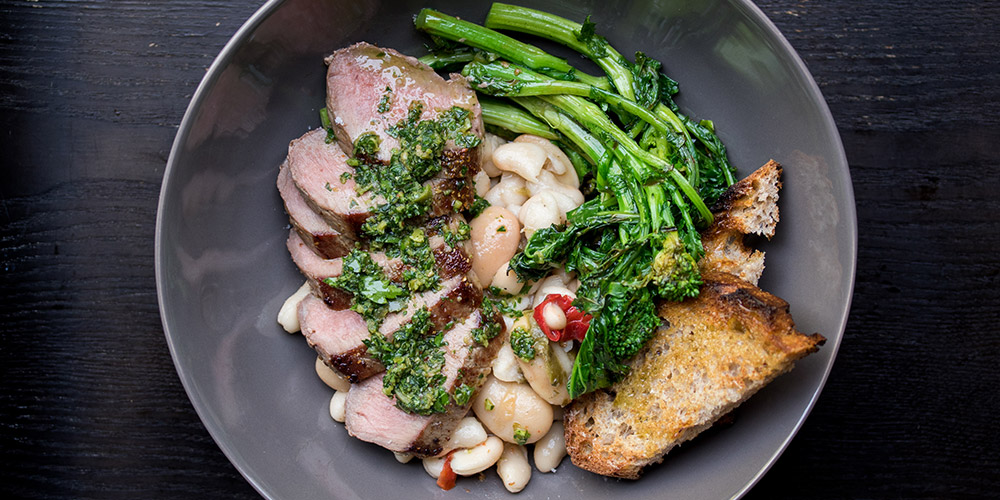 INGREDIENTS
Sauce

1 bunch Fresh Italian Parsley, leaves only

1 bunch Fresh Mint, leaves only

¼ cup Capers, drained and rinsed

1-2 Garlic Cloves, minced

3-4 Pieces of Preserved Lemon, pith and meat removed, minced

1 cup Castelvatrano Olives, pits removed, chopped

1/8 tsp Aleppo Pepper Flakes

1 cup Good Quality Olive Oil

Salt and Pepper, to taste
Sides

1 bunch Rapini

1 14oz can White Beans

1 cup Marinated Beans (Liv used store-bought from the olive bar)

Olive Oil, Salt and Pepper

1 Lemon, halved
Optional: Marinated Beans

1 cup Large Beans (like Gigande), cooked

1 cup Large Beans (like Gigande), cooked

1 tbsp Salt

1 Small Fresh Red Chili (Thai chili, Red Serrano or Red Fresno), thinly sliced OR 1 tbsp Aleppo Pepper Flakes

½ cup Olive Oil

½ tsp Sugar
DIRECTIONS
1
Separate about a quarter of the herbs and olives and coarsely chop by hand. Set aside.
2
Pulse the remaining ingredients in a food processor until uniformly chopped.
3
Combine the coarsely chopped herbs and olives with the sauce from the food processor. Taste and season with extra salt, pepper or Aleppo flakes as needed.
"This recipe makes about a pint of sauce. I think it's great to have extra! I freeze anything I'm not using that night in an ice cube tray and then pull out cubes as needed. It's great for pasta, grains, on meat or fish, or even swirled into soup."
– Liv
4
Rinse and drain the canned white beans.
5
In a serving bowl, combine the cooked white beans and the marinated beans. Taste and adjust seasoning if necessary.
"I used canned beans and marinated beans I got from the olive bar because that's realistically what I would do on a weeknight, but it's easy and fun to make your own marinated beans too."
– Liv
6
To make your own marinated beans: combine all ingredients except the cooked Gigante beans and mix together until the salt and sugar are dissolved. Add the beans and let marinate for at least 1 hour. Marinated beans will keep in the fridge for up to one week.
7
Rinse and dry the rapini. Toss with 1-2 tbsp of olive oil and 1 tsp each of salt and pepper.
8
Heat a heavy-bottomed pan (Liv used a cast iron grill pan) over high heat until it's smoking hot.
9
Working in batches, add as many stems of rapini as will fit in the pan without crowding. Use a lid that fits inside the pan to press down on the rapini, cooking for 2-3 minutes to char. Carefully flip and char the other side, if needed, for another 1-2 minutes.
10
Remove the rapini from the pan and toss with a squeeze of fresh lemon juice. Put the rapini in a shallow dish covered tightly with tinfoil to continue steaming while the rest of the batch cooks.
11
Repeat steps 8-10 until all the rapini is cooked. Keep covered until ready to serve.
12
Preheat the oven to 375 degrees.
13
Place the coriander seeds in a dry pan over medium-high heat.
14
Toast the seeds, swirling gently, until they start to darken and become fragrant. Remove from heat and transfer to a mortar and pestle (or electric spice grinder). Crush the seeds.
15
Combine the salt, black pepper and 1-2 tbsp of crushed coriander (to taste).
16
Sprinkle both side of the lamb striploin with the seasoning.
17
Heat a heavy bottom skillet over medium-high heat and add enough vegetable oil to thinly coat the bottom of the pan.
18
Cook the striploin for 4-5 minutes until nicely seared and golden brown.
19
Flip the striploin and transfer the skillet to the preheated oven.
20
Cook for another 5 minutes. Remove the striploin when the internal temperature registers 135 degrees on an instant-read meat thermometer. Let the striploin rest for 5 minutes. To serve, slice against the grain.