Lamb Chops with Sake Lees Dipping Sauce
Super savory tangy-sweet-salty dipping sauce accentuates the lamb while letting its full flavor stand unchallenged. We plated the chops with the sauce, to be served alongside your sides of choice.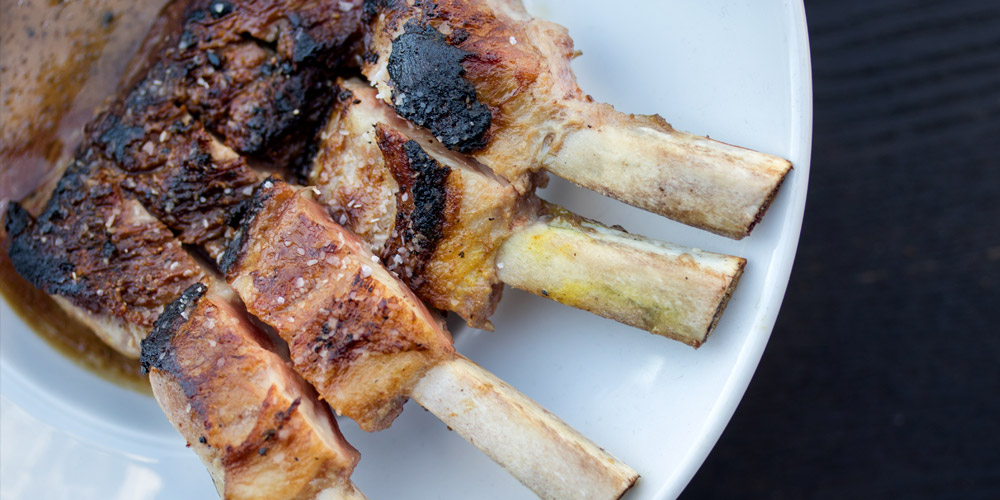 INGREDIENTS
Up to 45gr (1.6oz) of Kosher Salt

High Heat Oil (Canola, Safflower, etc)

1 tbsp Butter

Flake Finishing Salt (we used Jacobsen Sea Salt)
Kasu (Sake Lees) Dipping Sauce:

35gr (1 ¼oz) Tamari Soy Sauce

150gr (5.3oz) Water

75grams (about 2 ½oz) Sake Lees (aka Kasu Paste – could sub fresh sake & msg)

1 clove of Garlic, sliced paper thin

20gr (0.7oz) of Neutral Oil

Several Fine Grinds of Black Pepper

Salt to Taste (depends on saltiness of the soy sauce)
DIRECTIONS
1
Optional (But Recommended): Trim off the cap (spinalis) muscle from the racks, along with the thin layer of fat above it and the silverskin below it. This can be left on, but the silverskin will make the rack less tender.
2
Optional (But Recommended): Season the racks with 35-40gr of salt & let them sit 1-1 ½ hours in the fridge uncovered.
3
Preheat your oven to 400°F.
Make the Kasu Dipping Sauce:
4
Combine the shoyu, water, garlic, pepper, neutral oil, and kasu (or sake & msg) in a small sauce pot.
5
Bring the sauce to a simmer & cook it until reduced by half. Keep it warm while you prepare the lamb racks.
6
Season the lamb with salt & coarsely cracked pepper.
7
Get an oven-safe cast iron skillet or frying pan, lightly oiled with high heat oil rocket hot over almost high heat. Lay in the racks on their fat caps, optionally (if the racks have the rib fat cap on) holding the fat cap to the surface for the pan for about 30 seconds, until you feel the fat stick to the pan.
8
Add the tablespoon of butter to the pan. Once it melts, spoon it over the back end of the racks.
9
After about 2 minutes of basting, after the bottom has caramelized, flip the racks and again baste them with the butter. Cook for another 2 minutes, then move the pan to the oven to roast to your preferred doneness (they should take only a couple of minutes to reach medium rare).
10
Remove the lamb racks from the oven and the pan. Let them rest for 5-6 minutes before slicing.
11
Cut the racks into halves, then 95% of the way into chops between the bones, so the chops can be torn apart without much effort.
12
Serve the lamb ½ racks above the kasu sauce, sprinkled with a little finishing salt.