Roasted Canoe Cut Marrow Bones with Shallot Marmalade, Whole Grain Mustard Aioli & Sourdough Flatbread
Makes 2-4 Servings
WINE PAIRING

Quilceda Creek Columbia Valley Red Wine, Andrew Will Champoux Vineyard Red Blend, or Cayuse Vineyards Bionic Frog Syrah from Washington State
Canoe-cut marrow bones make it easy to extract the softened marrow after roasting. Seasoned breadcrumbs and lively condiments like shallot marmalade and whole grain mustard aioli are flavorful foils for the rich marrow. Make your own flatbread, if there's time, or serve with crostini or toast triangles.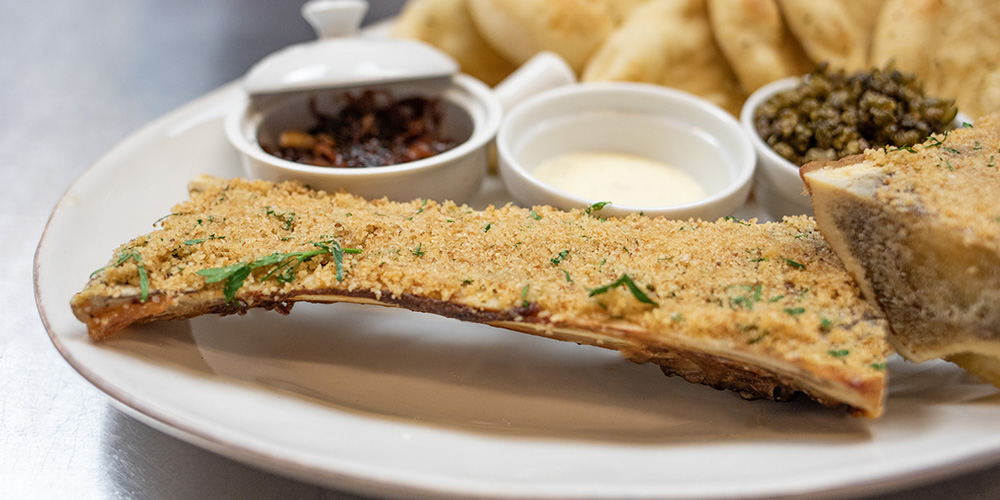 INGREDIENTS
For the Topping:

1 cup bread crumbs

1 tbsp olive oil

2 tsp chopped parsley

1/2 tsp garlic

1/2 tsp kosher salt

1/4 tsp chili flakes
For the Sourdough Flatbread:

440 grams bread flour (plus 1 cup for the poolish)

260 grams lukewarm water

1 ½ tsp dry active yeast (plus a pinch more for the poolish)

15 grams kosher salt

Olive oil, plus more salt (for baking)
For the Marmalade:

1/2 lb shallots, thinly sliced

1 tsp minced garlic

1 tsp olive oil

1/2 cup port wine

1/4 cup honey

pinch of kosher salt & freshly ground black pepper
For the Aioli:

3 par-boiled eggs (cooked 4 min in boiling water then cooled)

1/2 cup water

2 tbsp whole grain mustard

pinch of kosher salt

1 ½ cups neutral oil, such as grapeseed or canola
DIRECTIONS
1
If making flatbread, start the day before you want to bake. Make a poolish (pre-fermented wet dough) by mixing 1/2 cup cool water, 1 cup bread flour, a pinch of dry yeast. Allow mixture to sit covered at room temperature overnight.
2
The next day, make the flatbread dough: Mix poolish, water, yeast, and salt in a stand mixer fitted with a dough hook. Knead for 5-7 min until a smooth ball forms and pulls away from bowl. Allow the dough to rest in bulk for 1 hour then divide into 2-3oz balls. Allow the dough balls to proof 1 hour at room temp. When ready to bake, roll each dough ball flat and brush with olive oil and salt. Bake at 500°F for 4-5 minutes on a pizza stone, or the bottom of an overturned sheet pan.
Make the Shallot Marmalade:
3
Sweat shallots and garlic in oil on low heat for 45 min to 1 hour until soft and caramelized, stirring often. Deglaze with port wine and reduce for 10 minutes. Stir in honey, salt, and pepper. Adjust salt to taste.
4
In a blender or food processor, mix eggs, water, mustard, and salt until smooth. Slowly stream in oil on low speed until fully emulsified. Adjust thickness with water, if necessary. Adjust salt to taste.
5
Preheat oven to 400°F. Mix all the ingredients in a small bowl and blend well. Spread some of the breadcrumb mixture over each marrow bone. Roast on a sheet pan for 20-25 minutes until caramelized, and the marrow is very soft. Serve immediately with accompaniments.