Red Wine Braised Lamb Shanks with Homemade Gnocchi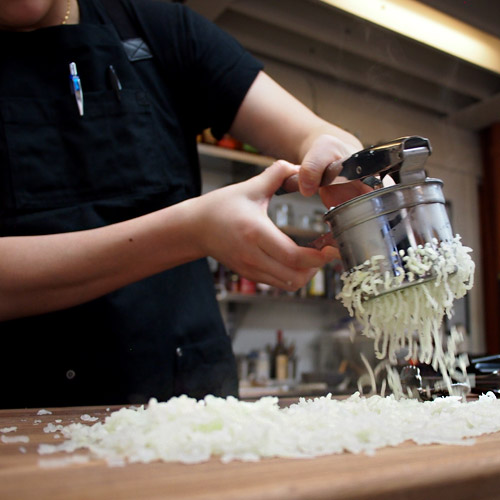 ---
Crafted by Jade—our Test Kitchen Assistant, Customer Service, and Inventory Manager Extraordinaire—this recipe was inspired by the year she spent in Italy. "Every Sunday, my host nonna (grandmother) would make gnocchi for us. Right before I left, I asked her if she would show me how to make it. She didn't write down any measurements, so it took a couple of tries when I got back to really figure it out."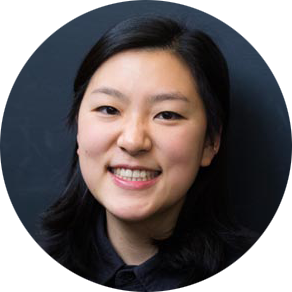 "Gnocchi goes well with the sauce, because the sauce is thicker. The texture, flavor and everything is, I think, better if you use bone-in cuts instead of ground meat, especially the shanks because they have the marrow. The sauce comes out pretty rich, but not heavy." Jade
Makes 6-8 Servings
WINE PAIRING
Montepulciano d'Abruzzo
For this recipe, Jade used a mixture of Ovation grass-fed lamb hindshanks and foreshanks (3 foreshanks and 2 hindshanks). Since you're braising the meat until it falls from the bone, the type of shank you use isn't essential. You can use only hindshanks, only foreshanks, or a mix like Jade did.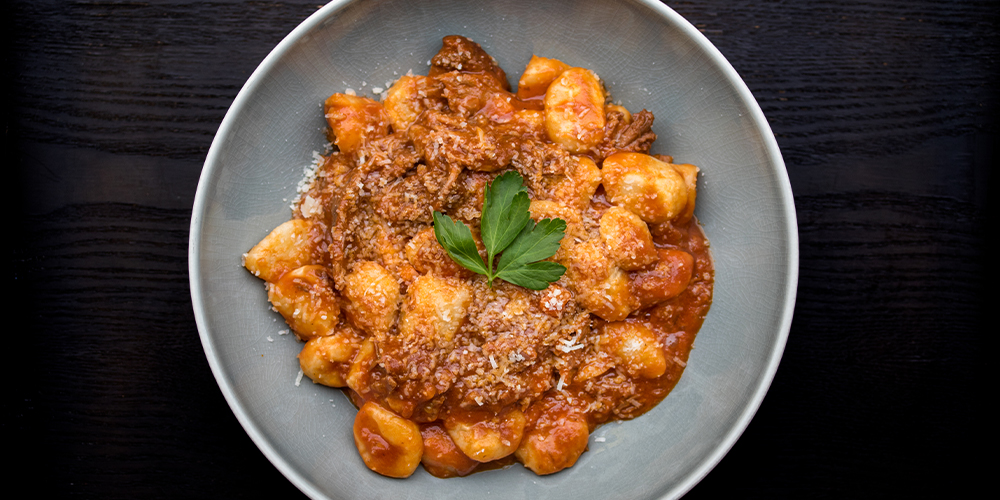 INGREDIENTS
Lamb Shank Ragu

2 tsp Vegetable Oil

2 Yellow Onions, small dice

2 Yellow Onions, small dice

2 Celery Stalks, small dice

2 Garlic Cloves, minced

1 6oz can Tomato Paste

1 cup Red Wine (preferably Italian; Jade used Montepulciano d'Abruzzo)

1 26oz box Pomi Strained Tomatoes (substitute a 28-oz can of whole tomatoes, pureed until smooth)

2 tsp Red Wine Vinegar

Salt to taste

Parmigiano Reggiano to finish
Gnocchi

5 lb Russet Potatoes, scrubbed

2 cups All Purpose Flour, plus more for dusting

2 tsp Kosher Salt
Optional Garnish: Fresh Italian Parsley
DIRECTIONS
1
Preheat the oven to 400 degrees. Prick the potatoes all over with a fork and set the potatoes on a wire rack set on a baking sheet. Bake for 45 minutes to 1 hour until the potatoes are tender enough to easily pierce with a knife.
2
Heat the oil in a large pot or Dutch oven over medium-high heat. Working in batches, sear the shanks on all sides until browned.
3
Reduce the heat to medium and add the carrot, onion and celery to the pot. Cook for 5-8 minutes until soft and translucent.
4
Add the tomato paste and cook until the veggies are coated and the paste has darkened to a brick red color. Stir constantly to avoid scorching.
5
Add red wine, tomato sauce and red wine vinegar. Stir to combine.
6
Add the shanks back to the pot, making sure each piece is submerged in the liquid.
7
Once the mixture reaches a simmer, reduce the heat to low, cover and braise until the meat is falling off the bones and shreds easily with a fork, about 2-3 hours. Stir every 20-30 minutes to prevent the sauce from scorching on the bottom.
Make the Gnocchi While the Shanks are Braising:
8
While the potatoes are still hot from the oven, working quickly one potato at a time, cut in half and scoop the potato from the skin, then pass it through a potato ricer onto your work surface. (A wide, clean portion of your countertop or a big cutting board will do.) Spread the riced potatoes evenly across the entirety of your work surface.
"There is no substitute for a potato ricer! Don't use a colander. Don't mash them with a fork. You have to rice the potatoes when they're hot, because otherwise they'll get gluey. Moisture is your enemy, so you want to spread them out over the entire surface you're working on."
– Jade
9
Let the riced potatoes cool for 3-5 minutes until there's no more steam and they are cool to the touch.
10
Sprinkle 1 cup of flour evenly over the riced potatoes and start incorporating by gently bringing the potato-flour mixture together with your hands.
11
Keep dusting flour over the potato-flour mixture ¼ cup at a time until the dough starts to form and is no longer sticky.
12
Knead the dough until just combined, about 2-3 minutes. (Don't overdo it!)
"I knead, just not like with pasta. If you don't knead, they don't come together. Try to use as little flour as possible and knead for just a couple of minutes until it comes together. I'm not at Italian nonna status, so I usually roll out one rope and test a few to make sure I have enough flour and the texture is right."
– Jade
13
Use a bench knife to divide the dough in half, and then in half again.
14
Roll each quarter portion of dough into ½-inch wide ropes and cut into 1-inch pieces.
15
Optional: Use your thumb or index finger to roll the gnocchi over a gnocchi board or the back of a fork to create indentations for the sauce.
16
Set the gnocchi on a flour-dusted sheet pan and set aside until the sauce is ready.
17
Once the meat is falling off the bones and can shred easily with a fork, remove the shank bones. Shred any large pieces of meat and add salt to taste.
18
Bring a large pot of salted water to a simmer and add the gnocchi in small batches. When the gnocchi float to the surface, cook for an additional 1-2 minutes.
19
Use a spider strainer or slotted spoon to remove the gnocchi from the water.
20
Toss the gnocchi with the lamb ragu. Top with grated cheese and garnish with fresh Italian parsley (optional).
"It does take some time, but this recipe will serve six to eight, easy. Both freeze well, so you can save it for later, too. That's something I am always thinking about because I am one person but I am always cooking in batchers because it's hard to scale down recipes for one to two people."
– Jade
How to Freeze Some of the Gnocchi for Later:
1
Spread the gnocchi in a single layer on a parchment paper-lined baking sheet.
3
Transfer the frozen gnocchi to a freezer Ziploc bag.
4
You can cook the gnocchi from frozen. It will take a few additional minutes. Simmer in water until they float, and then cook for an additional 1-2 minutes.