Guest Blogger: Christo aka Doggybloggy is a personal chef, poet, food blogger and artist living in New York City, his offbeat style and humor most certainly comes from his New Mexico roots since there are very few city folk with his reference points. Check out his blog for more of his interesting perspective.
———–
Candy Cap mushrooms are a new ingredient for me and probably for most of you out there as well since they are only native to the western part of the United States and I don't mean cowboy western I mean the west coast. These ultra special funghi have cousins and what not scattered all over the place but the Lactarius rubidus can only be found on the west coast. When you are a mycophagist you go out of your way to find delectable treats and the Candy Cap is one of those treats.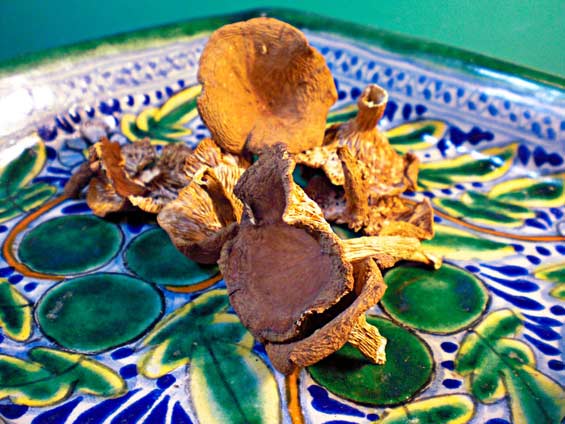 Desserts come to mind upon the first whiff of these beauties, fresh they are simply a mildly fragrant mushroom, but dried they become the masters of their domain with their sweet maple smell. Their aroma only intensifies as they dry, so much that it can linger for days maybe even weeks in whatever container you have stored them in. If ever a mushroom lived up to its expectations it would have to be the candy cap, sure truffles and morels have their place on the mantle but the candy cap is in a league all its own, the mapley – hazelnutty aroma and soft sweet flavor are unequaled.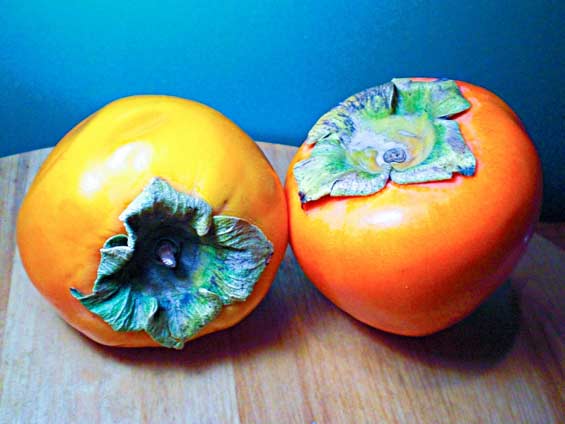 Persimmons kept begging to get in on the action so who am I to say no, in fact the marriage was so successful it might be wise to take this from Vegas all the way to church.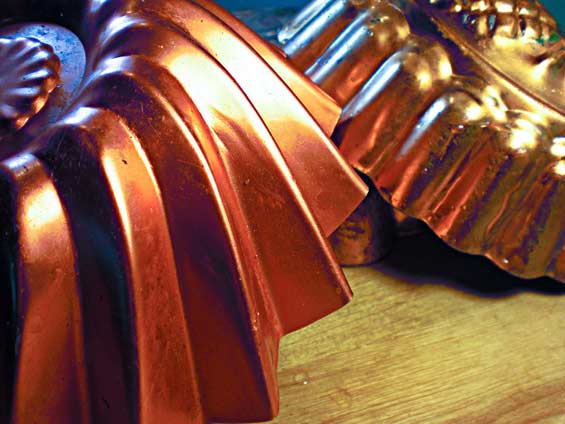 The ingredients for this dessert were basically etched in stone, what I couldn't figure out was what kind of mold to make it in. There is your standard copper mold.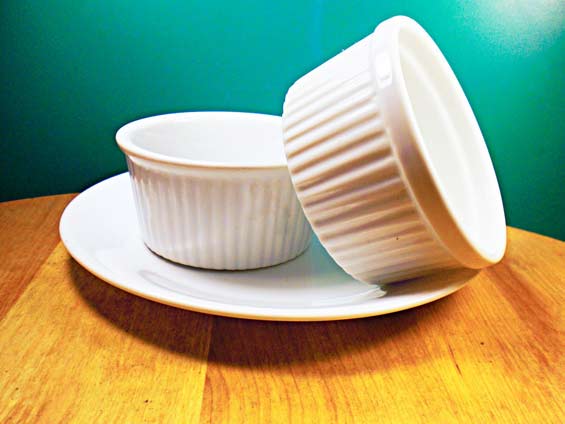 Then there are ramekins…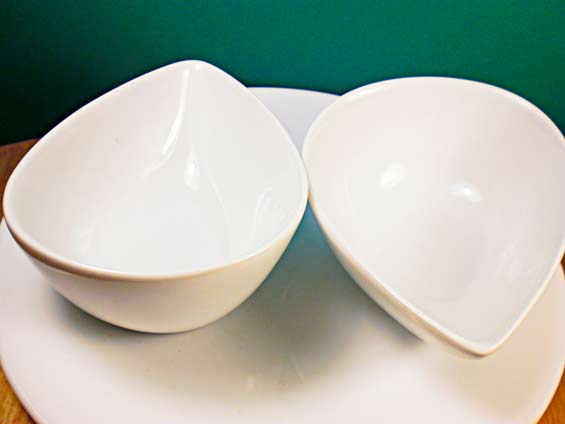 …and there are teardrop ramekins.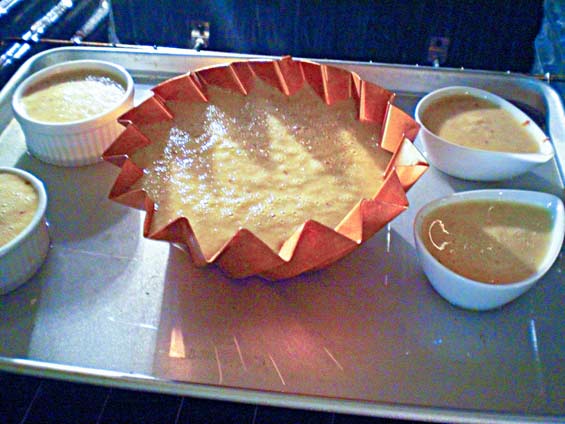 I didn't bother trying to make up my mind so I made flan in all of them. Everything you want in a flan and oh so much more, persimmon, guajillo chile and candy caps share the diva limelight while the rest of the custard is the tour bus that gets us here.
Candy Cap Persimmon Flan
Ingredients:
Method:
Grind mushrooms and chile together in a coffee grinder or food processor to a fine powder.
Preheat oven to 325 degrees. You will need 6 ramekins or other specialty flan cookware and a large baking pan to put them in.
Pour 1 cup sugar in warm pan over medium heat. Constantly stir sugar until it browns and becomes caramel. Quickly pour approximately 2-3 tablespoons of caramel in each ramekin, tilting it to swirl the caramel around the sides. Reheat caramel if it starts to harden.
With powdered chile and mushrooms in bowl in a mixer or with a whisk, blend the eggs together. Mix in the milks and the persimmon pulp then slowly mix in the 1/2 cup of sugar, then the vanilla. Blend smooth after each ingredient is added. I also hit it a little with the immersion blender to make sure the persimmon pulp was masticated.
Pour custard into caramel lined ramekins or one large mold. Place ramekins or mold in a large glass or ceramic baking dish or large sheet pan and fill with about 1-2 inches of hot water. Bake for 30 to 45 minutes in the water bath and check with a knife just to the side of the center. If knife comes out clean, it's ready.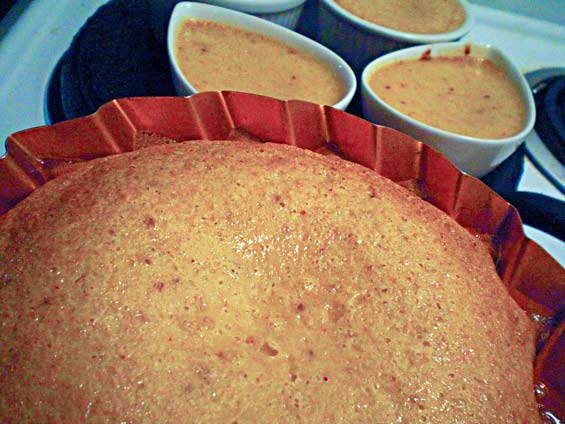 Remove and let cool in a refrigerator for at least 1 hour. To unmold, loosen the edges of the custard with a knife. Place in hot water up to the rim of the mold for a few seconds, and quickly turn upside down on a serving plate or invert each ramekin onto a small plate, the caramel sauce will flow over the custard making everyone feel like a rock star.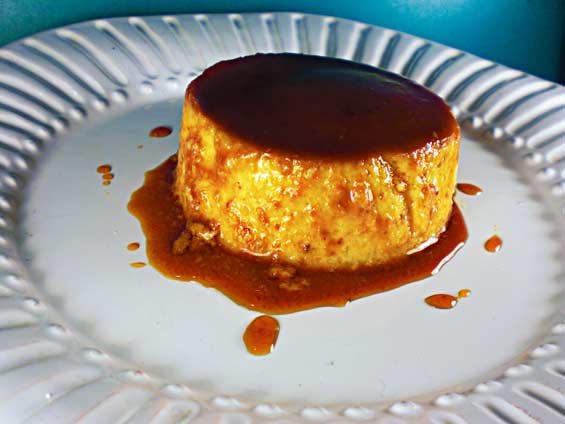 Oh, and let me tell you what – this flan has so much of that smooth factor going on with nothing but secret ingredients and it gives so much good tongue how can it not be the true impresario. Sweet sultry persimmon, wildly exotic candy caps and the teeny tiny chile bite from the guajillo all cradled in a soft and luxurious flan – hold me back.
___________
Browse More:
Custard, Pudding & Panna Cotta Recipes
All Dessert Recipes
Candy Cap Recipes
Exotic Fruit Recipes