Pan-Roasted Teres Major Steaks with Charred Onion and Demi-glace
Makes 4 Servings
WINE PAIRING
A robust red like cabernet, grenache, or California syrah
Teres major isn't as well-known as tenderloin filets, ribeyes, or strip steaks, but it can hold its own in their league. It's a cut buried deep in the shoulder muscle, so it has the rich flavor you associate with chuck, but teres major's texture rivals that of tenderloin, and it looks fantastic on the plate—especially with a splash of chile oil and a charred onion cup to hold the demi-glace.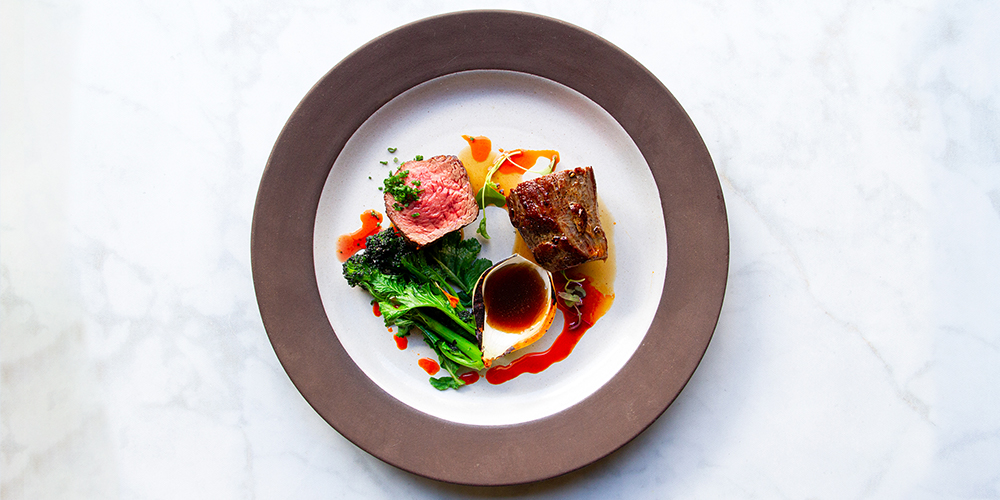 INGREDIENTS
2 medium yellow onions, halved from root to top


Canola oil

Salt & pepper to taste

4 Tbsp unsalted butter

4 sprigs fresh rosemary, minced

6 sprigs fresh thyme, minced

1 ½ cups demi-glace

Chili oil
DIRECTIONS
1
Place the cut side of each onion half in a hot cast iron pan until it's blackened and charred. Allow to cool. Carefully pull out the small, inner layers of the onion, leaving the outer layers and their charred rim intact. Set onion cups aside.
2
Heat oil in a pan large enough to hold all the steaks (or use 2 pans). Season the meat with salt and pepper. Sear steaks over medium heat on both sides.
3
Add butter and herbs. Turn and baste the steak often for the last few minutes of cooking.
4
Cook to medium-rare (130°-135°). Remove the steaks from the pan and let them rest loosely covered for 5 minutes.
5
To serve, cut each steak in half across the middle (if desired) for a more interesting presentation. Fill onion cups with warm demi-glace. Drizzle the plate with chili oil.
6
Pair with roasted broccoli raab.