Kurobuta Tomahawk Chops with Daikon, Carrots, and Cabbage
Makes 4 Servings
WINE PAIRING
Chateauneuf-du-Papes
Kurobuta (aka Berkshire) pork is a heritage breed bred for superior marbling that helps keep it rich & moist when conventional pork can dry out. Here we've paired luxurious tomahawk chops (which have long Frenched bones) with Japanese flavors of toasted sesame, daikon radish, mirin & soy.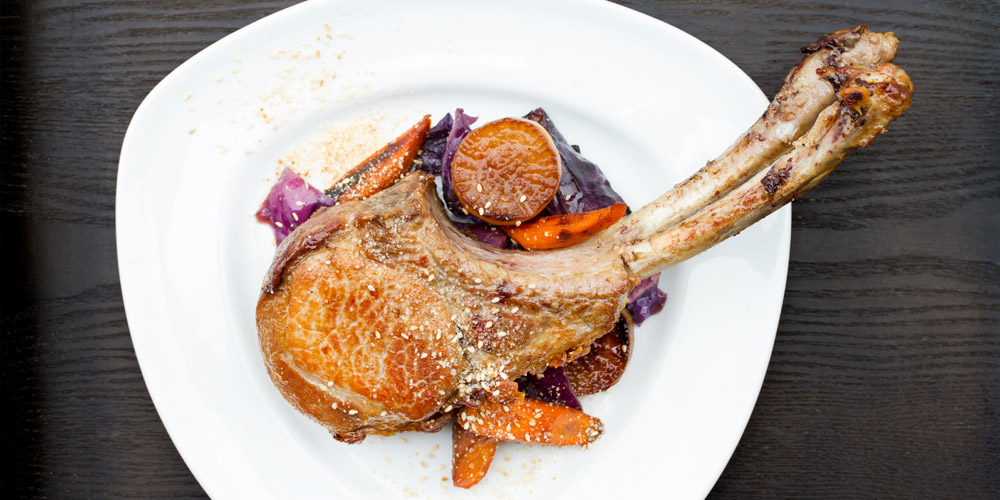 INGREDIENTS
Sesame Seed Salt

¼ cup White Sesame Seeds, toasted

1 tsp Kosher Salt
Roasted Vegetables

½ cup Mirin (sweet rice wine)

2 tbsp Toasted Sesame Oil

1 tbsp Soy Sauce

1 tbsp Seasoned Rice Wine Vinegar

1 small (8"-10") Daikon Radish, peeled & sliced into ½" rounds

4 Carrots, peeled & roll-cut

1 small Red Cabbage, cored & cut into 2" chunks
DIRECTIONS
1
Slice the rack between the bones into 2-bone chops.
2
Season the chops with salt.
3
Optional: move the chops into the fridge for an hour and half for the salt to draw out some of their moisture.
4
Preheat your oven to 450°F.
5
Pulse the salt and sesame seeds together in a spice grinder until combined & broken up, but not ground to a fine powder.
6
Stir together the mirin, sesame oil, soy sauce, and rice wine vinegar.
7
Put the cabbage, carrots and daikon in a roasting pan. Drizzle them with the mirin mixture. Roast the vegetables until softened & caramelized.
8
Get a large oiled frying pan or skillet very hot over high heat. Sear the pork chops in the pan, turning, until well browned on all sides.
9
Move the chops to a roasting pan bone-side down (the bones act as a natural roasting rack) and roast them to an internal temperature of 145°F.
10
Remove the chops from the oven and hot pan. Let them rest, loosely covered with foil, for 10-15 minutes.
11
Put some of the cabbage, daikon, and carrot on each plate.
12
Top the veggies on each plate with a pork chop. Sprinkle the chop & plate with the sesame seed salt. Serve.