Kurobuta Pork Belly with Cheesy Grits, Tabasco Honey & Cherry Tomatoes
Makes 8 Servings
WINE PAIRING
Spanish Garnacha
Rich, succulent & luxurious, Kurobuta (aka Berkshire) pork bellies offer both bold-flavored meat and buttery, sweet fat. Here they're slow-braised until fork tender, then served atop cheesy grits with charred cherry tomatoes and a spiced tabasco honey.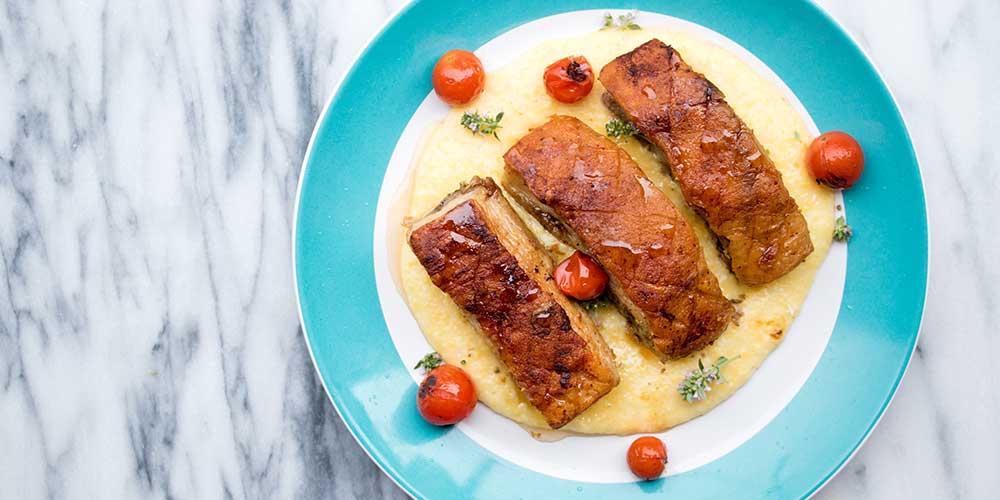 INGREDIENTS
Braised Pork Belly:
4 1/2lbs Kurobuta Pork Belly

1 tbsp Salt

5 sprigs Fresh Thyme

1 Bay Leaf

¼ tsp Cracked Black Pepper

½ cup Low Sodium Chicken Stock
Cheesy Grits:

1 cup Grits or Polenta

4 cups Liquid (low sodium chicken stock and/or water)

2 cups Grated White Cheddar (we used Beecher's Reserve)

2 tbsp Unsalted Butter
Tabasco Honey:

¼ cup Honey

1 tsp Tabasco Hot Sauce
DIRECTIONS
1
Preheat your oven to 300°F.
2
Cut the pork belly into 2" by 4" chunks. Lightly score the surface fat in a crosshatch pattern.
3
Season the belly pieces with the tablespoon of salt, massaging it into the meat.
4
Put the belly pieces in a dutch oven or similarly sized pot with the thyme, bay leaf, black pepper & chicken stock.
5
Put the pot on the stove & heat the liquid to a boil. Cover the pot & move it to the oven to braise until the belly is fork tender.
Check it after about 1 ½ hours, but it will probably take 2 to 2 1/2 hours total.
6
Remove the belly slices from the braising liquid. Put them in a dry frying pan or skillet over low heat, fat side down. Render off some of the remaining fat (we recommend leaving no more than a half inch of fat on each slice), pouring off the liquid fat as it pools.
7
While the fat is rendering, cook the polenta. Bring the liquid to a boil in a saucepan. Stir in the polenta & cook 4-5 minutes, stirring constantly, until it thickens. Remove the polenta from the heat, and whisk in the cheddar & butter.
8
Pour all the remaining liquid fat out of the pan, increase the heat to high, and sear the belly slices on all sides to caramelize & crisp their surfaces.
9
Pour the cherry tomatoes into a hot oiled pan over high heat. Cook them, stirring frequently, until they char.
10
Reheat the polenta if necessary. Serve the pork belly slices atop the polenta with the charred tomatoes, drizzled with the tabasco honey.