Korean-style Ribeye Bulgogi
Makes 2-3 Servings
WINE PAIRING
High acid, low tannin reds like Lambrusco, Barbera or Shiraz.
Bulgogi loosely translates as "fire meat." The traditional Korean dish calls for beef that's tender and robustly flavorful. We think grass-fed Angus beef ribeye is the ideal candidate.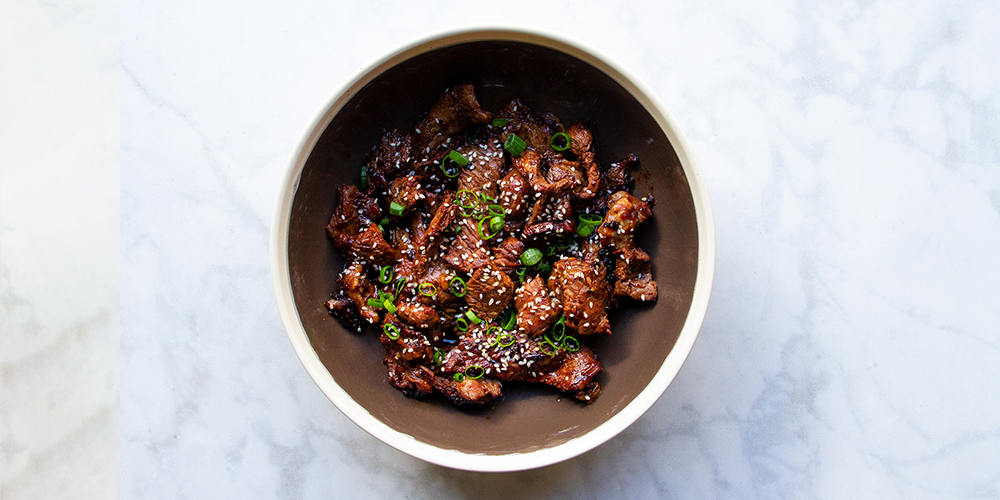 INGREDIENTS
MARINADE:
1/4 cup soy sauce


2 Tbsp sugar

1 Tbsp sesame oil

1 Tbsp mirin

2 tsp siracha

1 tsp onion powder

4 cloves garlic, minced

1" piece of fresh ginger, grated

1/4 tsp black pepper
TOPPINGS:

Sesame seeds

Scallions, thinly sliced
DIRECTIONS
1
Thinly slice the meat into strips.
2
Combine all marinade ingredients and let the meat marinate overnight.
3
Cook on a grill, a griddle, or in a lightly oiled pan quickly over high heat. Transfer to a serving bowl and top with sesame seeds and thinly sliced scallions.
4
Serve with a stack of butter lettuce leaves for wrapping the meat, and side bowls of sushi rice, kimchi, pickles, and chile crisp.