Juniper Rosemary Wild Boar Chops with Roasted Figs, Sweet Potato & Bacon
Makes 4 Servings
WINE PAIRING
Syrah
While wild boar rib chops have a flavor that's closer to pork than the bolder leg & shoulder cuts, they still work well with traditional game meat pairings like resinous rosemary & juniper, which evoke the forest. Here we've paired them with a juniper-rosemary rub, roasted figs & bacon, and a sweet potato puree.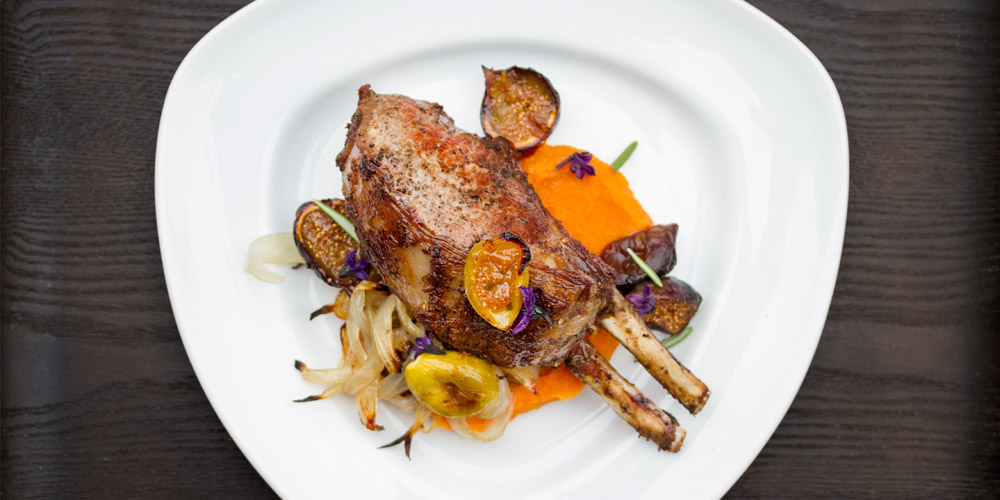 INGREDIENTS
Juniper Salt Rub
1 tsp Juniper Berries
1 tbsp Fresh Rosemary Leaves
2 tsp Salt
Roasted Figs
2 pints Fresh Figs (ideally 1pt black figs & 1pt green figs), destemmed & halved
1 Sweet Onion, sliced into ¼" thick half-moons
5oz Bacon, medium diced
2 tbsp Olive Oil
Sweet Potato Puree
1 ½ Sweet Potatoes, peeled & cubed
DIRECTIONS
1
Preheat your oven to 425°F.
2
Slice the wild boar rack between the bones into four 2-bone chops. Rub the fat cap and other side (not the inside eye of the chops) with the juniper salt rub.
3
Toss the figs, onion, and bacon in the olive oil & spread the pieces out on a baking sheet covered with parchment paper. Roast until caramelized – about 15-20 minutes, then remove the pan from the oven.
4
Boil the sweet potato in salted water until the pieces are fork tender. Drain off the water & puree the pieces in a food processor along with salt to taste.
5
Sear the chops in a hot, oiled, oven-safe frying pan or skillet over high heat, starting fat-cap down.
6
Once the fat cap has browned & the salt has blackened, flip the chops & sear the bone-side.
7
Continue to sear, turning two more times, until all sides are nicely browned.
8
Move the pan to the oven (or put the chops in a roasting pan) with the chops bone-side down (the bones act like a natural roasting rack). Roast the chops to your preferred doneness.We recommend an internal temperature of 140°F, but you should know that the USDA recommends that all wild game meats be cooked to an internal temperature of 165°F for safety.
9
Remove the chops from the oven to a clean plate and let them rest (loosely covered with foil) for 10-15 minutes.
10
Spread some of the sweet potato puree on each plate. Top the puree with wild boar chops, then top the chops with some of the onion, bacon, and fig mixture. Serve.