IBERICO PORK ST LOUIS-CUT CHINESE-STYLE SPARE RIBS
Makes 2 Servings
WINE PAIRING
A bright, zesty pink or orange wine
We're betting these fried spare ribs coated in umami-rich fish caramel sauce will best your favorite Chinese takeout version.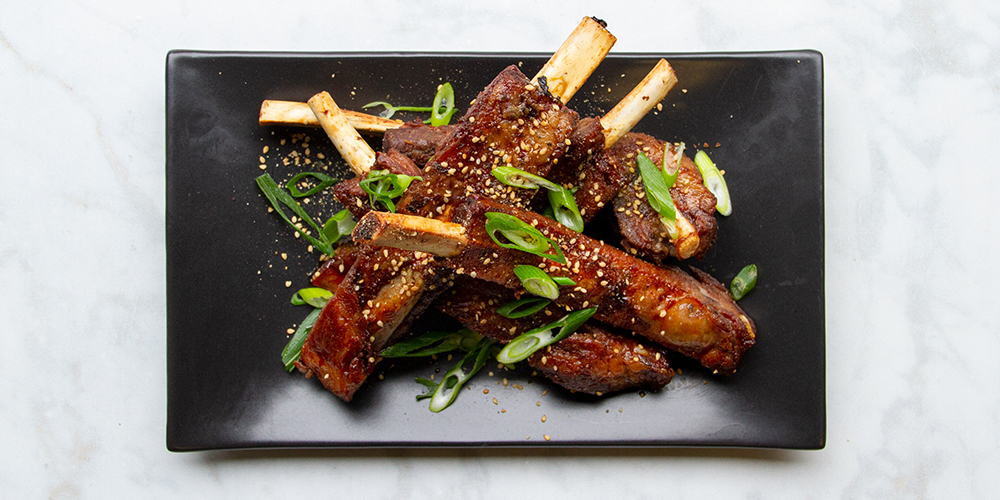 INGREDIENTS
High heat oil for deep frying

Corn starch
BRAISING LIQUID:

6 cups water

¼ cup soy sauce

3 tbsp rice or apple cider vinegar

2 tbsp tomato paste

1 onion, halved

1 carrot, roughly chopped

1 head garlic, unpeeled, cut in half horizontally

1" piece of ginger

2 tbsp sugar

1 tbsp red pepper flakes

1 tsp whole black peppercorns
FISH SAUCE CARAMEL:

½ cup good-quality fish sauce

¼ cup water

3 tbsp soy sauce

3 tbsp brown sugar

1 tsp sriracha sauce

1 tsp garlic powder
GARNISH:

White sesame seeds

Scallions, light and dark green parts only, cut thin on a bias
DIRECTIONS
1
Place the meat and all the braising ingredients in a large pot. Over medium heat, bring liquid to just below a simmer. Be careful not to let it boil. Cook for about 1 hour.
2
Remove ribs from the pot onto a plate to cool. Discard liquid or strain and reserve for another use.
3
Combine all fish sauce caramel ingredients together in a saucepan over medium heat and reduce by half.
4
Cut braised and cooled racks into individual ribs.
5
Pre-heat deep fryer or a deep pot on the stove with plenty of oil to 375°F.
6
Toss ribs with corn starch until completely coated. Let them sit in the corn starch for at least 10 minutes and then shake off any excess.
7
Fry ribs until golden, 4-5 minutes, working in batches, if necessary, to avoid crowding them.
8
Toss the ribs while still hot with the fish sauce caramel until fully coated.
9
Serve sprinkled with sesame seeds and scallions.