Iberico Lomo Milanese-Style Pork Cutlets with Butter, Lemon & Caper Sauce
Makes 6 Servings
WINE PAIRING
Spanish Verdejo or Gavi from Piedmont
These crispy cutlets have so much flavor you could just serve them with a squeeze of lemon, but we love the way this buttery, briny sauce plays against the rich meat. Make sure to prep all the ingredients for the pan sauce before frying the meat so it comes together quickly while the cutlets are still warm.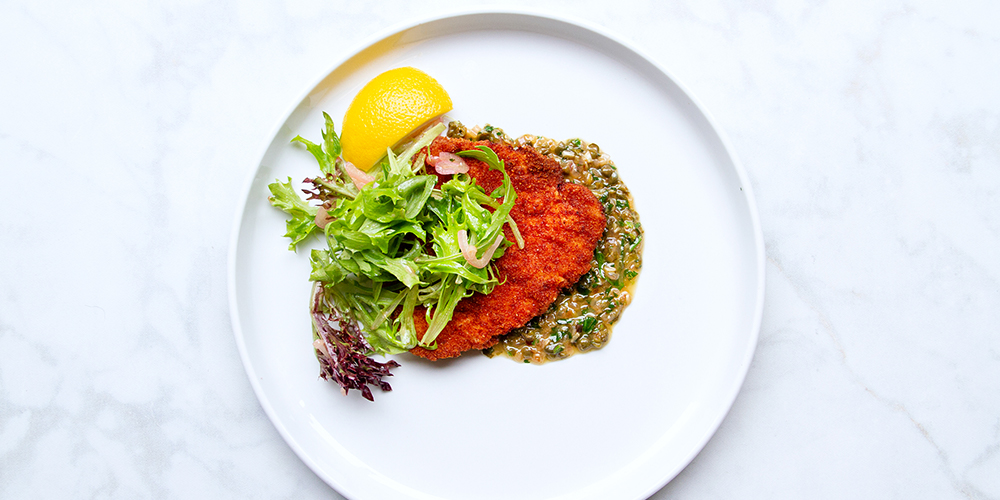 INGREDIENTS
1 cup all-purpose flour

1 egg, beaten

2 cups Panko breadcrumbs

Salt & pepper to taste

Oil for frying
SAUCE:

1 tbsp olive oil

2 tbsp minced shallot

2 tbsp roughly chopped capers

1 tsp minced garlic

¼ cup white wine

3 tbsp cold butter

1 tbsp minced parsley

1 tbsp minced chives

½ tsp minced fresh thyme

Juice of 1 fresh lemon

Salt & pepper to taste
DIRECTIONS
1
Using a sharp knife, trim any visible silver skin from the meat. Slice meat into 6 portions (approximately 5oz. each). Place one cutlet at a time between plastic wrap and pound lightly with a meat mallet or heavy skillet until they are about twice the diameter and half the thickness.
2
When ready to cook, set three wide, shallow bowls on a work surface. Place the flour, egg, and breadcrumbs into separate bowls. Season all three with salt and pepper.
3
Working with one cutlet at a time, dredge it in the flour on both sides and shake off any excess. Dip it into the egg until completely covered on both sides and shake off any excess. Finally, coat both sides in breadcrumbs and shake off any excess. Transfer to a clean plate and repeat with each cutlet.
4
Heat oil to 350 degrees in a deep fryer, or heat ¼ inch of oil in one or two large skillets over medium heat. Fry the cutlets in batches, if necessary, to avoid overcrowding the pan, until they are a little darker than golden brown, about 7-9 minutes. Drain on paper towels and keep warm.
5
In a separate pan, sauté shallot in oil over medium-low heat until translucent. Add capers and garlic. Cook until the garlic is fragrant. Add the wine, raise the heat a little and cook until the wine is reduced by 90%. Remove the pan from heat and whisk in cold butter 1 tbsp at a time until it is all added. Be patient and only return to heat if the mixture gets too cold for the butter to melt, otherwise the sauce may not properly emulsify. Once butter is fully melted, stir in lemon juice, fresh herbs, and season to taste with salt & pepper.
6
Serve immediately, spooning some sauce on the plate around each cutlet.