Hungarian Chicken Paprikash with Csipetke Noodles and Cucumber Salad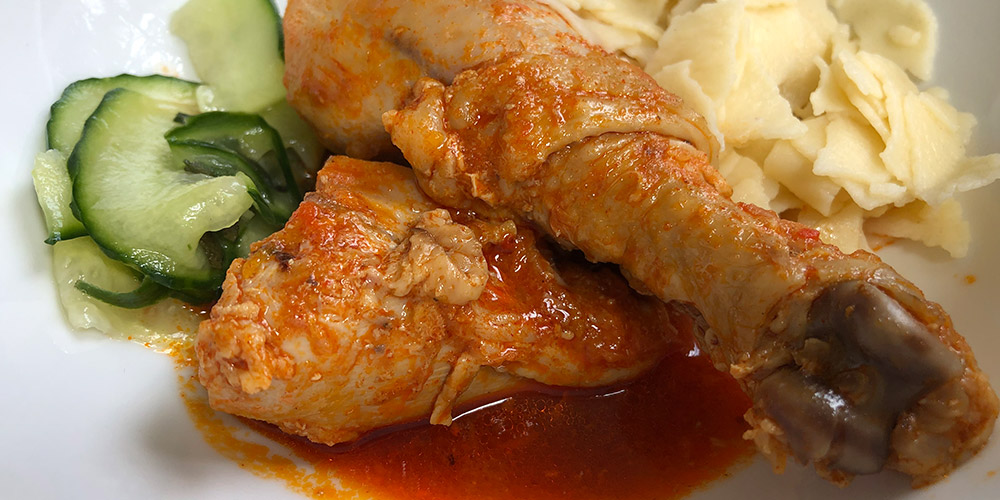 INGREDIENTS
Chicken Paprikash

1 chicken, cut up

2 tablespoons of olive oil (optional: cut out the fat around the chicken tail and remove skin from breast and render it or use ½ tablespoon solid poultry fat)

1 medium size onion, diced

1 large red bell pepper, diced

1 medium size tomato, diced

1 clove of garlic (or 2-3 if you love garlic), crushed

2 bay leaves

Ground pepper

Approx. 1 tablespoon salt (start with half and add the other half or more if necessary)

1.5 tablespoon of Hungarian sweet paprika

1-1.5 quart of water
Csipetke (Hungarian pinched noodles)

½ lb flour (plus extra for sprinkling)

2 medium eggs

Salt

Lukewarm water (approx. 1 tablespoon)
Cucumber salad

3 large cucumbers, finely sliced

Salt (about one teaspoon of table salt)

2 tablespoons chopped dill

½ Tbsp brown sugar

1/3 cup Rice vinegar

1 clove of crushed garlic (optional

4 tablespoons sour cream or vegan sour cream (optional)
DIRECTIONS
1
Add olive oil to a large cast iron kettle or Dutch oven over medium heat. Add the chicken pieces, diced onions, bell pepper, tomato, garlic, salt, and bay leaves. (If you like spicy food, you can add 1-3 pieces of whole fresh chili peppers.) Sauté until the juice from the chicken evaporates (approx. 35 minutes), giving it a few good stirs to avoid sticking.
2
Remove from heat, add the paprika and stir well, then add enough water to just barely cover chicken pieces. Turn the heat to high and cook it between medium and high for the whole time (I cook it on high, but if it gets too "messy", I reduce a little bit of heat) and you will not want to cover the pot. Cook for another 30 minutes. Check a few times while cooking. Chicken paprikash can be more stew like if we like the thicker sauce or thinner if we prefer that. In this latter case we will need to replace the evaporated water with about 4 oz of hot water poured straight into the pot.
Csipetke (Hungarian pinched noodles)
1
Knead flour, eggs and salt and add little lukewarm water, as much as needed, to make a dough that can be rolled out as thin as possible with a rolling pin. Using a pasta roller will help us make the thinnest possible.
2
Pinch off pieces with your fingers, about 1/3 square inch each, like a pinkie fingertip. Sprinkle the noodles lightly with flour.
3
Bring a large pot of salted water to a boil. Add the csipetke noodles and cook until they float on the surface of the water, approx. 5 minutes. Strain the noodles and set aside. Serve 3-4 heaping tablespoons of noodles with each plate of chicken paprikash.
1
If you are using sour cream, stir the sugar, chopped dill and vinegar into the sour cream. Add salt, toss the thin cucumber slices well and let it sit until juice accumulates. Add the vinegar or sour cream vinegar and stir well. Sour cream version is the best if we strain the cucumber juice after we let it sit in the salt, and add the sour cream-vinegar mixture after that.