Grilled Ribeye with Steak Onions
Makes 2 Servings
WINE PAIRING
A full-bodied red like cabernet sauvignon or a Bordeaux blend.
A thick, boneless grilled ribeye needs little embellishment. Here we kept it simple, with charred red onion rings in a sweet, tangy glaze.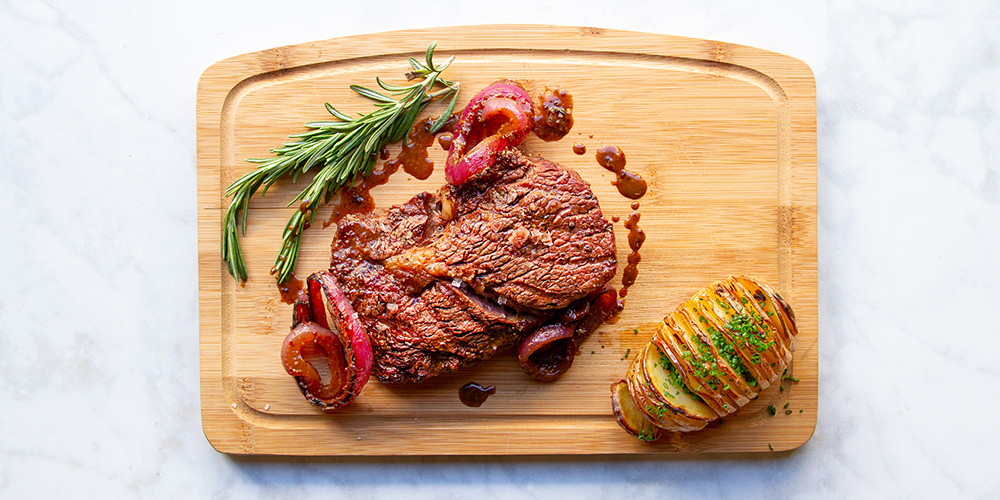 INGREDIENTS
14oz. boneless ribeye steak
1 red onion


1-2 Tbsps Canola oil

1 Tbsp brown sugar

1 Tbsp whole grain mustard

½ cup red wine vinegar

¼ cup water
DIRECTIONS
1
Cut onion into 1" rounds. Use enough canola oil to cover the bottom of a pan. Cook the onion slices in the oil until both cut sides are charred. Stir in the remaining ingredients, lower the heat to medium, and reduce to a syrupy glaze.
2
Grill steak over medium-high heat until medium-rare (130°-135°). Rest steak loosely covered on a clean plate about 5 minutes.
3
Slice the steak against the grain and serve with the glazed onions.