GRILLED IBERICO LOMO BONELESS PORK CHOPS WITH TOMATO GRAVY
Makes 6 Servings
WINE PAIRING
Bubbly Lambrusco, medium-bodied Spanish Tempranillo, or Washington State Cabernet Franc
Lomo (striploin) is one of the most versatile Iberico cuts. For this dish, we portioned a whole striploin into chops, brined them before grilling, and paired them with a sassy tomato gravy.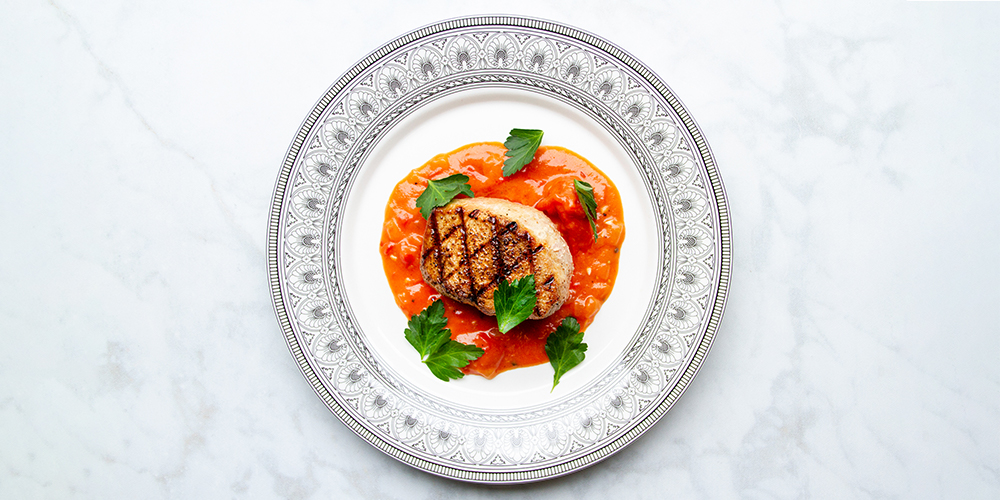 INGREDIENTS
BRINE:

6 cups water

1/2 cup salt

1/2 cup dark brown sugar

1 handful of whole peppercorns

4 cloves garlic, smashed

4 sprigs of thyme

2 bay leaves
TOMATO GRAVY:

½ cup yellow onion, diced small

2 cloves garlic, minced

1-2 tbsp canola oil

3 tbsp butter

1.5 tbsp AP flour

1.5 tbsp cornmeal

28oz. can high-quality whole peeled tomatoes (such as San Marzano)

1 cup chicken stock

1 cup milk

Juice of 1 lemon, freshly squeezed

Salt, pepper, and hot sauce to taste
DIRECTIONS
1
Trim any visible silverskin from the striploin and cut it into 6 thick chops, about 7oz. each.
2
Brine the meat up to one day ahead. Combine all the brine ingredients in a pot. Bring liquid to a boil, stirring, until salt and sugar are dissolved. When the brine has completely cooled, submerge the chops in the brine and refrigerate for at least 12 and up to 24 hours. (You can do this in the same pot or in a zipper-sealed plastic bag.)
3
Make the tomato gravy. Sweat onions and garlic in small amount of canola oil over medium low heat until translucent.
4
Increase heat to medium and add butter. When melted, add flour and cornmeal, whisking or stirring. Allow to cook just until mixture begins to brown.
5
Add milk and stock slowly, stirring constantly.
6
Crush the tomatoes with your hands as you add them to the pot and continue to break them up with the spoon as you stir.
7
Once the sauce has thickened, reduce heat to medium low and allow to simmer for another 25 minutes. Remove from heat and stir in lemon juice. Season to taste with hot sauce, salt, and pepper. Keep warm or reheat when needed. (Sauce can be made 2-3 days ahead and kept refrigerated.)
8
Remove meat from brine and pat dry. Prepare your grill with two zones: one for direct heat and one for indirect.
9
Season the chops with salt and pepper. Set them over direct, medium-high heat for 2-3 minutes to achieve grill marks. Turn each chop and sear another 2-3 minutes.
10
Once both sides are grill marked, move the chops to the indirect zone over medium-low heat. Put the lid on the grill and cook until chops reach an internal temp of 135°F (medium rare), about 3-5 minutes.
11
To serve, spoon some tomato gravy in the center of each plate and place a chop on top. Pair with a side of creamy grits, or another starch of your choice.