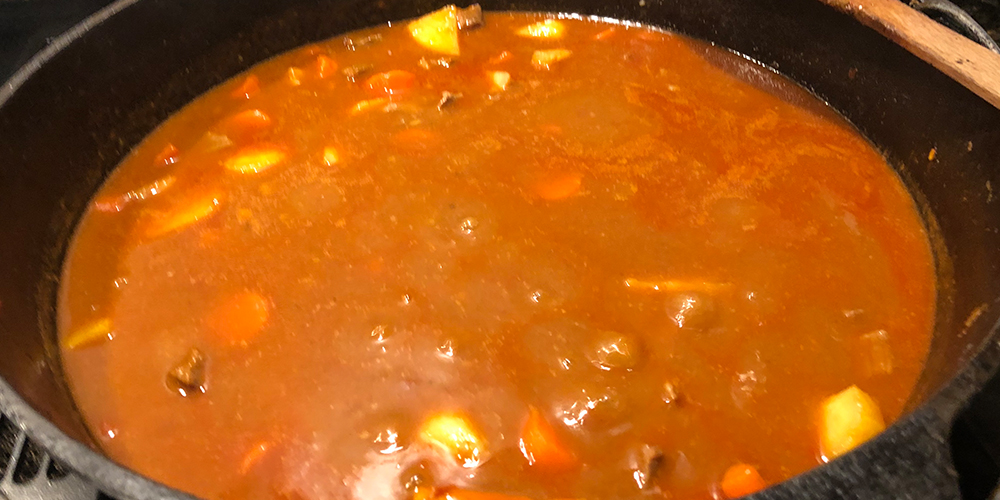 INGREDIENTS
1.5 lb boneless beef, or approx.1.5 lb net weight cut on the bone

1 large tablespoon of fat (pork or poultry or render tallow if you have it on the cut)

1 medium size onion

2 cloves of garlic

3 carrots

1 large red bell pepper, or 4 pieces of red sweet mini peppers

2 celery stalks

2 parsnips (optional, you can add more carrots instead)

5 medium potatoes

25 pieces of caraway seed

1 tablespoon of sweet paprika

Salt & Pepper

Optional: Chili for spiciness
DIRECTIONS
1
Note that you can use your desired cut of meat, just take into consideration that braising cuts can take longer time to cook.
2
Cube the meat and dice the onions, garlic, celeries, and peppers.
3
Sautee the meat in lard for 25 minutes and add the onion, celeries, garlic, peppers, salt and pepper, caraway seeds and further cook for another 20 minutes.
4
Add 2.5-2.65 quarts of water and turn the heat to high. Add sweet paprika (Hungarian is preferable, but use any paprika you have in your pantry), and cook it for 60 minutes.
5
Slice carrots and parsnips, potatoes in cubes and cook for another 20-30 minutes and (chilies if you want to make it spicy).