Iberico Pork Secreto with Fava Beans, Chorizo & Pea Vines
Makes 4 Servings
WINE PAIRING
Garnacha
Succulent, rich Iberico pork secretos (a flank-steak-like cut from behind the shoulder) are paired here with creamy fresh fava beans & vegetal pea vines spiced with chorizo. This dish is a real treat, but isn't difficult. Give it a try!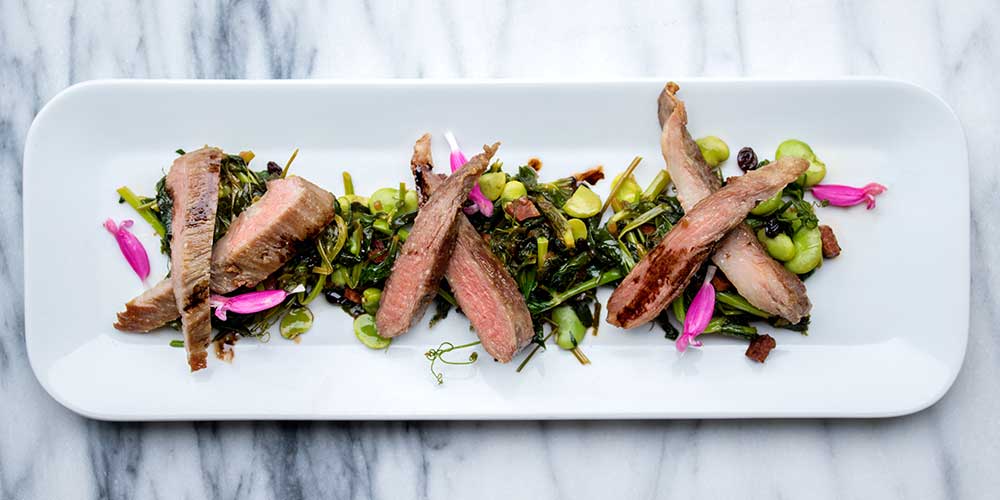 INGREDIENTS
2 Iberico Pork Secretos, halved
¼ small diced Dry Cured Spanish Chorizo
¼ Red Onion, minced
¼ cup Dry White Vermouth
1 bunch Pea Vines, chopped
2 tbsp Zante Currants
1lb Fava Beans, shelled, blanched & peeled
1 tsp chopped Fresh Tarragon Leaves
½ tsp Sherry Vinegar (we used Gran Reserva)
DIRECTIONS
1
Stir the chorizo pieces and red onion in a dry frying pan or skillet over Medium heat to render out the fat. Cook, stirring frequently until the chorizo crisps.
3
Deglaze the chorizo pan with the vermouth. Add the pea vines & currants. Continue to cook, stirring, until the pea vines wilt.
4
Add the fava beans and tarragon to the pan. Taste & add salt as necessary along with the sherry vinegar. Remove the pan from the heat.
5
Sear the secretos in a different hot, oiled pan over high heat to your preferred doneness.
We recommend Medium Rare (125-130°F), which is how the Spanish eat Iberico, but it's worth noting that the USDA recommends all pork be cooked to an internal temperature of 145°F.
6
Remove the secretos from the heat to a clean plate & let them rest, loosely covered, for ten minutes before slicing.
7
Slice the secretos & serve them atop the fava & pea shoot mixture, drizzled with a little balsamic vinegar.