CURED & FRIED ANCHOVY FILLETS WITH SPICY REMOULADE SAUCE
Makes 4-6 Servings
WINE PAIRING
Vinho Verde or Albarino
Curing the anchovy fillets before frying them is an extra step that isn't necessary, but we think you'll agree that it's worth it.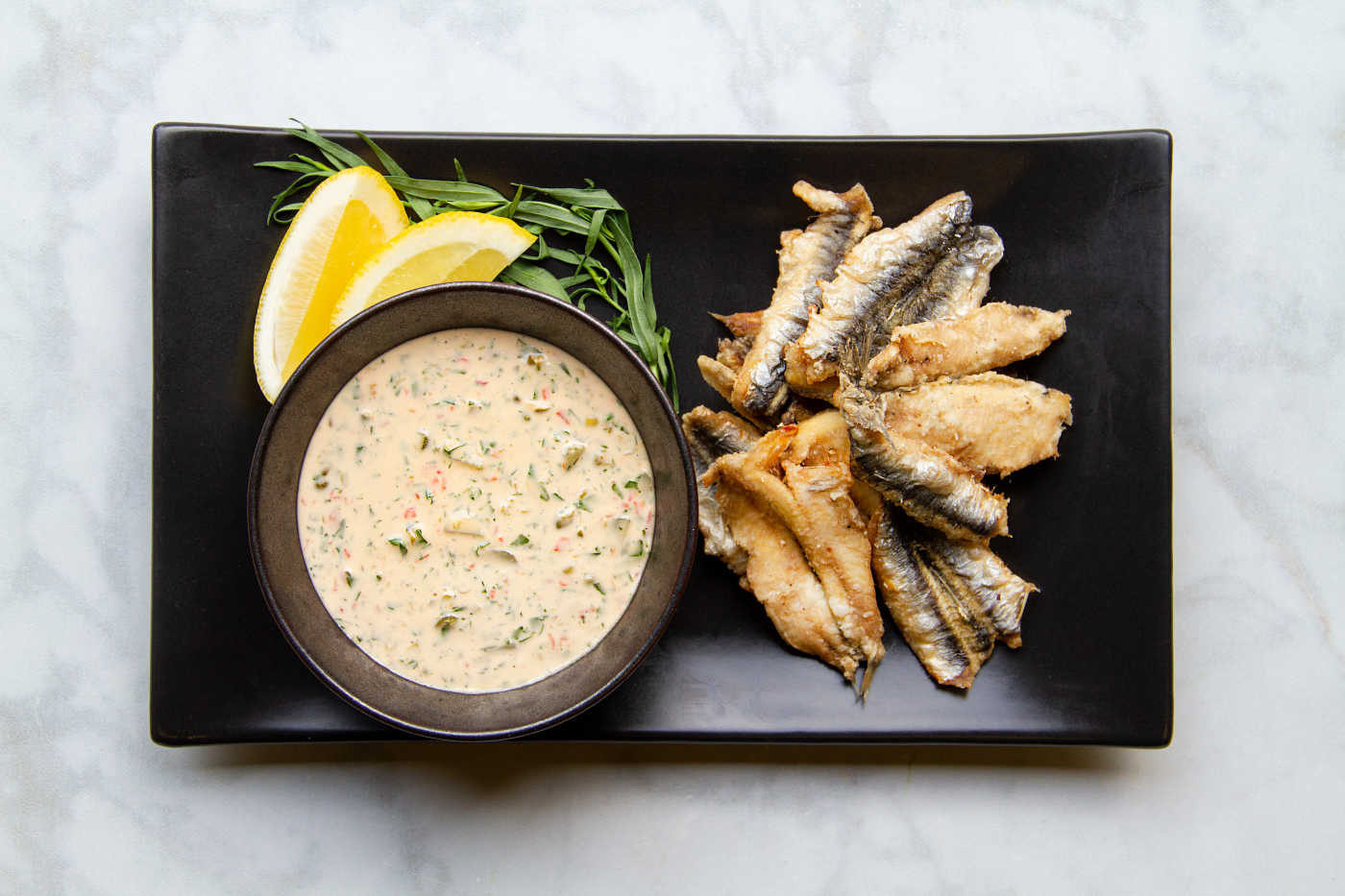 INGREDIENTS
Kosher salt for curing

1 cup white wine vinegar

2 garlic cloves, minced

½ cup olive oil

Flour for dredging

Salt & pepper to taste

Oil for frying

REMOULADE SAUCE:
1 cup mayonnaise


2 tbsp Dijon mustard

1 tbsp lemon juice

1 tbsp parsley, minced

1 tbsp hot sauce

2 cloves garlic, minced

2 tsp capers, roughly chopped

1 tsp Worcestershire sauce

1 tsp paprika

1 tbsp shallot, finely chopped

Salt to taste
DIRECTIONS
1
Cure the fish. Lay out fillets in a single layer and cover in Kosher salt. Continuing layering fillets and salt until all have been added and covered. Wrap in plastic and refrigerate for 3 hours. Remove anchovies from salt and rinse well.
2
Marinate the fish. Mix the white wine vinegar, garlic and olive oil in a shallow pan and add the salted and rinsed anchovies. Allow to marinate for at least 12 hours refrigerated.
3
Make the remoulade. Combine all ingredients for the remoulade in a small bowl and set aside.
4
Fry the fish. Dust marinated anchovies in flour seasoned with salt and pepper. Heat oil to 350 degrees in a deep fryer or heavy skillet. Fry fillets in batches until golden, about 4-5 minutes. Drain on paper towels.
5
Serve with remoulade sauce.