Grass-Fed Beef Coulotte with Pepper & Tomato Sauce
Makes 4-6 Servings
WINE PAIRING
Left Bank Bordeaux
The coulotte (aka rump cap, sirloin cap, picanha) is a cut renowned in Brazilian cooking for its combination of bold flavor and a rich fat cap. It's often roasted with the fat cap up, or skewered into a "U" shape (as in this recipe) with the cap side out. This way the cap bastes the meat as the fat melts.
Here we've paired it with a colorful, fruity-tangy pepper & tomato sauce.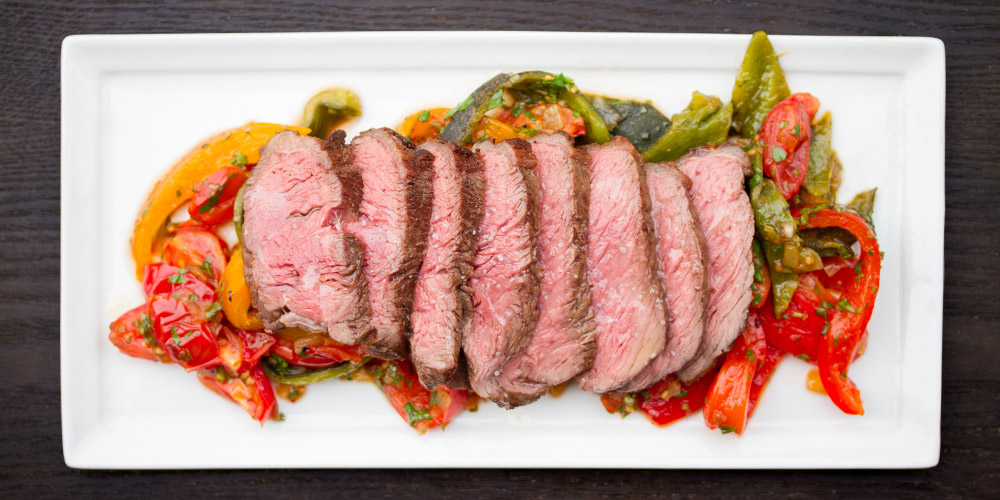 INGREDIENTS
Pepper & Tomato Sauce

1 Poblano Pepper

1 Red Bell Pepper

1 Orange or Yellow Bell Pepper

1 Onion, medium diced

¼ tsp Salt

1/2 cup Olive Oil

1 pint Red Cherry Tomatoes, quartered

¼ cup Red Wine Vinegar

¼ cup chopped Flat Leaf Parsley
DIRECTIONS
1
Preheat your oven to 400°F.
1
Char the peppers over a gas stove or fire, then peel them (
how to char & peel peppers
). De-seed/core/stem them, then cut them into strips.
2
Cook the onion in the olive oil, with the salt, over medium heat until lightly browned.
3
Add the peppers & continue to cook for another five minutes.
4
Add the cherry tomatoes and red wine vinegar, then continue to cook for another five minutes.
5
Stir in the parsley & remove the pan from the heat. Taste & add salt if necessary.
1
Score the coulotte's fat cap in a crosshatch pattern.
2
Slice through the fat cap into 1 ½" thick steaks.
3
Fold the steaks into u-shapes, with the fat cap on the outside. Push a skewer through each of them to hold the shape.
4
Sear each portion on all sides in a hot, well-oiled skillet or frying pan over high heat, until it develops a browned crust. A lot of fat will render off the caps into the pan. Drain it off.
5
Move the pan to the oven (or the steaks to a roasting pan) and roast them to your desired doneness (we recommend Medium Rare).
6
Remove the coulotte steaks from the oven & let them rest, loosely covered with foil, for 10-15 minutes.
7
Remove the skewers & slice the steaks. Serve them atop the pepper & tomato sauce.