Grass-fed Beef Coulotte with Molho de Alho
Makes 4-6 Servings
WINE PAIRING
Chinon
The coulotte (aka rump cap, sirloin cap, picanha) is a cut renowned in Brazilian cooking for its combination of bold flavor and a rich fat cap. It's often roasted with the fat cap up, or skewered into a "U" shape (as in this recipe) with the cap side out. This way the cap bastes the meat as the fat melts.
Here we've paired its beefy flavor with a creamy, garlicy molho de alho sauce.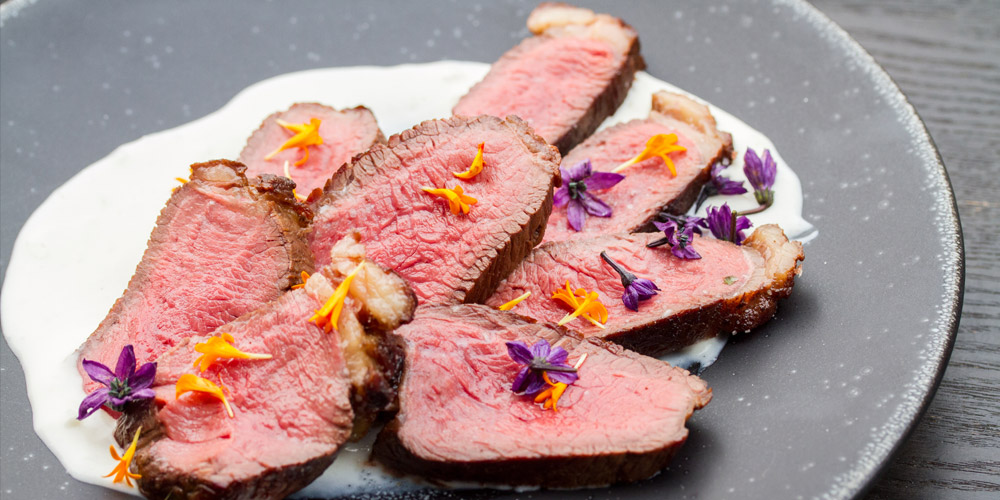 INGREDIENTS
Molho de Alho Sauce

2 tbsp Unsalted Butter

5 cloves of Garlic, minced

2 tbsp All Purpose flour

1 cup Whole Milk

½ cup Mayonnaise (we recommend Best Foods or homemade mayo)

Salt to Taste
DIRECTIONS
Make the Molho de Alho Sauce:
1
Melt the butter in a small saucepan over medium heat.
2
Add the minced garlic and saute it in the butter until lightly browned (about 3-4 minutes).
3
Sprinkle in the flour and stir until a smooth paste forms.
4
Slowly drizzle the milk into the pan while whisking. Bring the sauce to a simmer, and cook until it's thick enough to coat the back of a spoon.
5
Pour the sauce out of the pot into a bowl and let it cool to room temperature.
6
Stir in the mayonnaise and salt to taste.
1
Preheat your oven to 400°F.
2
Score the coulotte's fat cap in a crosshatch pattern.
3
Slice through the fat cap to cut the coulotte into 1 ½" thick steaks.
4
Fold the steaks into u-shapes, with the fat cap on the outside. Push a skewer through each of them to hold the shape.
5
Sear each portion on all sides in a hot, well-oiled skillet or frying pan over high heat, until it develops a browned crust. A lot of fat will render off the caps into the pan. Drain it off.
6
Move the pan to the oven (or the steaks to a roasting pan) and roast them to your desired doneness (we recommend Medium Rare).
7
Remove the coulotte steaks from the oven & let them rest on a plate, loosely covered with foil, for 10-15 minutes.
8
Remove the skewers & slice the steaks. Serve them with the molho de alho sauce and your choice of sides.